How to Design French Country House Plans with a 3D Floor Planner?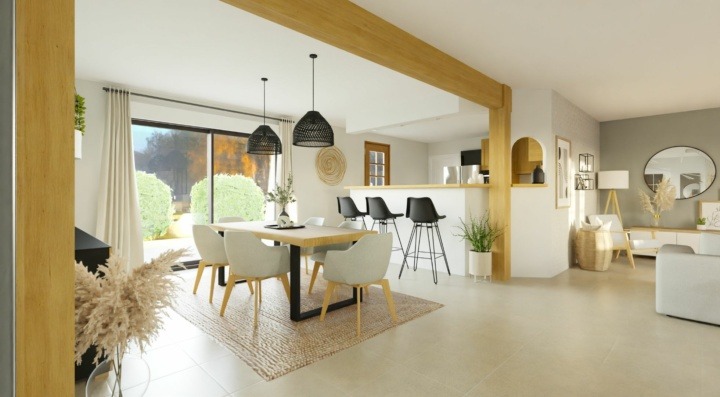 Create a French country house design

Try it virtually and show it in 4K

Be sure everything is flawless before launching works
Discover the best ways to incorporate classic French country designs for the modern home, with the help of powerful 3D floor planners. Build, design, critique, and share – it's all possible with this innovative tech.
French architectural styling is renowned for exhibiting a timeless elegance, and nowhere is this more apparent than in French country designs.
They exude an effortless balance of harmony and contrast by incorporating natural, rustic materials inspired by the landscape, with ornate embellishments.
If you're in the midst of creating French country house plans, a 3D floor planner can help you produce meticulous drafts in a virtual setting that you can share with clients.
With efficient drag-and-drop tech, 3D planners enable you to build out complex design schemes, make changes instantly, take a virtual tour, and share them with others.
It's the easiest way to coordinate detailed plans and ideas and streamline workflow processes with professional renderings that will win over clients.
Read on to learn more about these innovative 3D planners and how to capture the essence of classic French country house plans with a modern twist.
How to Build House Plans French Country Style with a 3D Floor Planner?
Being able to tangibly see and build designs using accurate, 3D software is an invaluable way to elevate your repertoire as a novice or professional interior designer.
Orchestrate unique concepts using real brand name products, materials, and furnishings. Communicate and collaborate with others instantly and keep track of every item and expense.
Use a 3D floor planner to create house plans:
1
Build a 2D Outline
A 2D blueprint that shows the entire outline and foundation of the house is the first step.
This can be done using the tools in the planner to build and connect the structural components, such as walls, doorways, and windows.
Already have a blueprint of the property? It can be uploaded into the planner instead of manually drawing one.
Room templates are another alternative that can be used to develop the 2D plan. The measurement tool lets you set precise dimensions to replicate the property to scale.
To mark the location of other features in the layout, use the icons and labels.
2
Add Features to Create a Design
Find and add different materials and features by navigating to the planner's extensive online catalog.
It's filled with items, including paint colors, wallpaper, furniture, flooring, windows, kitchen cabinetry, light fixtures, and much more.
To find a particular style or item, use the filter options to narrow the results for even more efficiency.
Once you've found something you like, click, drag, and use it in your design. It can be edited, reposition, duplicated, or deleted with a simple click.
Present ideas in the most precise and visually enticing format so clients can get a genuine impression of how a design will look and feel when it's converted into reality.
Modern French Country House Plans: How to Master the Look
Like any transitional style, modern French country house plans require a delicate balancing act. Influenced by the surrounding landscape, traditional French country house plans incorporate lots of natural hues and materials, and are often constructed from wood, stone, and terracotta.
Milky neutrals, soft pastels, and other warm, earthy hues are widely used alongside rustic plaster or stucco for a relaxed and inviting aesthetic.
Today, in contemporary homes that mingle modernity with French classicism, you'll find more refined, stylistic counterparts like clean-line furniture placed alongside authentic, antique, or rustic elements.
Modernized styles also emphasize layering textures including raw and handmade materials to boost the visual interest of the space. Below, we highlight some key attributes to consider using for modern French country house plans.
Plaster or stucco finished walls
Floor to ceiling windows
Open concept layout
A central staircase with wrought iron railings
Rustic stone or marble fireplace
Hexagonal terracotta floor tiles
Wide, rich toned hardwood
Shaker style kitchen cabinetry with marbled counters
Vaulted ceilings
Exposed wood beams
Black light fixtures, door handles and window frames
Country French House Plans: Example Layouts to Inspire You
We've rounded up layouts that exemplify thoughtfully designed country French house plans that tastefully merge modern simplicity with the rich character of rural France.
Small 1 Story, 2 Bed, 2 Bath with Wrap-around Porch
This modern French-style farmhouse features a house plan that is clean, simple, and charming. A wrap-around porch with wooden supports creates a welcoming first impression.
Inside, the entranceway opens directly into the kitchen and great room, which are towards the left with high vaulted ceilings, clerestory windows, and two sets of French doors leading outside. It boasts a blend of soft blue walls and light neutrals throughout.
The entertainment and dining areas are situated close together with a large, rectangular table positioned behind and parallel to the sofa.
Close to the dining area is a laundry room and mud room, with convenient access to the porch. Meanwhile, a large, private master bed and bath are in the rear corner of the house and the second bedroom and bath are in the opposite corner, providing plenty of space in between.
Medium 1 Story, 3 Bed, 2.5 Bath with Split Design
With almost 2500 square feet, this spilt layout example features a combination of rustic brick and neutral colored walls with hardwood flooring.
Walking through the hallway, a half bath is situated directly on the right-hand side. Straight ahead, wooden sliding doors reveal a moderately size home office. Meanwhile, a large great room, dining and kitchen area share the central part of the home, with a U-shaped kitchen at the back.
The entertainment area is towards the front of the house, which is separated by a large farmhouse dining table. Large windows, a vaulted ceiling, and a statement brick fireplace add to the warmth and character of this layout.
The bedrooms are split, with the master bed and bath on one side, and the two secondary bedrooms on the opposite. Together, the mixture of brick and neutral walls, marbled kitchen counters, rustic wood and black detailing offer an impressive design for modern enthusiasts.
Large 2 Story, 4 Bed, 3 Bath with 2 Car Garage
Four wooden pillars set against a sprawling front porch create a welcoming entrance that opens into a deep, narrow layout.
It boasts an open concept living room to the left, while showcasing the kitchen directly ahead with a dining area adjacent to the kitchen island. Two bedrooms are on the main level, including a master en suite and an additional guest bathroom.
A utility and laundry room are tucked towards the side of the kitchen. Meanwhile, the additional bedrooms are placed in each corner of the upper level with attached bathrooms.
A bonus room stretches overtop of a 2 car garage, ideal for a den, office or exercise room.
Merging two separate styles into one can be among the trickiest challenges in interior design. Fortunately, 3D technology makes it effortless and enjoyable to take on such challenges.
Whether you're a budding or establish interior designer, use HomeByMe's powerful 3D floor planner to create and present your vision for French country house plans with confidence.
When you can see each component spring to life in real-time, it truly makes the process so much easier. Try it today!
Design French Country House Plans
Create a French country house design

Try it virtually and show it in 4K

Be sure everything is flawless before launching works
Make flawless Design plans
Start for free today and create any design project in no time! Then share your ideas with 4K images to clients and friends.