How to create your home interior design project online?
Plan and visualize your interior design in 3D

Produce realistic HD images and 360º views

Share your interior design plan with your partners
Do you have some decoration ideas in mind, but aren't sure how to start? Discover how to create your home interior design project online !
What is interior design?
Interior design is the process of planning or redesigning an interior of a building to enhance its space aesthetically and allow the fluid circulation of people. An interior designer produces the floor plan layout, chooses the design theme of the space and styles the furniture. Interior design also involves accessorizing the space and choosing fixtures, fittings, paint colors and flooring to create a balanced design.
Design your home interior with HomeByMe
The HomeByMe floor plan generator helps you to plan your interior design project quickly, easily and affordably.
Whether you are renovating or updating an existing home or planning a brand new build, HomeByMe helps you to navigate design issues and plan your layout for a beautiful and functional home interior.
Use your floor plans and 3D images to share your project with partners and friends and communicate your vision to builders and suppliers. This is important during an interior design project to make sure that everyone involved has a clear understanding of the project.
How to create your online interior design project
Start planning your project by creating a floor plan of the space you're going to be renovating or building. This could be a room, a floor or a house. Using the basic measurements of your home, you can draw your plan using our intuitive wall builder or scan a blueprint and let HomeByMe generate your floor plan. Alternatively, our Floor Plan Creation Team can create your 2D floor plan from a rough sketch.
Now that you have your building outline, add walls, windows, doors and stairs and your basic floor plan is complete. Your project can be duplicated in moments to test different layouts and furniture options as needed.
Don't forget to save your online project so you can access it at any moment. Share the link with friends and family to get their feedback or send it to building contractors to show them your design ideas.
Create a floor plan
The floor plan will provide the basis for your interior design project and will allow you to communicate your ideas clearly with everyone involved. Use your 2D floor plan to show important features such as doors, windows, stairs, measurements and rooms names. Your 2D plan can be furnished or empty.
Select the 3D viewing mode to furnish your floor plan whilst visualizing it in 3D. This is helpful for making design decisions when selecting and arranging furniture as it gives a realistic view of how it should look in real life. This is also useful for sharing your ideas with relatives or builders so they can understand your vision. Add wall coverings, flooring and accessories, such as plants, mirrors and rugs, to complete your design.
Visualize your design in 3D
Modern technology has made online interior design accessible to everyone, whether or not you have prior experience using specialized design software. HomeByMe allows you to take a virtual tour of your project, in the first-person viewing mode, and to create beautiful, realistic images of your interior design. Create a 3D rendered image in moments or even a 360º view of your project, which will allow you to picture yourself in your new interior. Share your project link and 3D images with friends, family and building contractors to gather feedback and discuss your ideas.
View finished HomeByMe projects in the Inspiration page.
Create HD images of your interior design
Once you've finalized your interior design, you can produce high-definition 3D home decor images of your project. These images are ideal for printing or sharing online with friends, family or project partners. HomeByMe's advanced software also allows you to generate a high-resolution 360º view of your property, to demonstrate the full potential of your design. Finally, you can share your project link, so others can take a 3D virtual tour of your property using the first-person perspective tool.
Interior Design project examples to inspire you!
Bedroom Interior Design
Apply a new wallpaper or paint color to your bedroom walls to revamp your bedroom interior at an affordable price.
Kitchen Interior Design
Taking into consideration your kitchen requirements and available space, try out various designs using HomeByMe to create your ideal kitchen.
Bathroom Interior Design
Select a design theme for your bathroom, which might be Victorian or minimalist, and furnish it with items from our extensive catalog.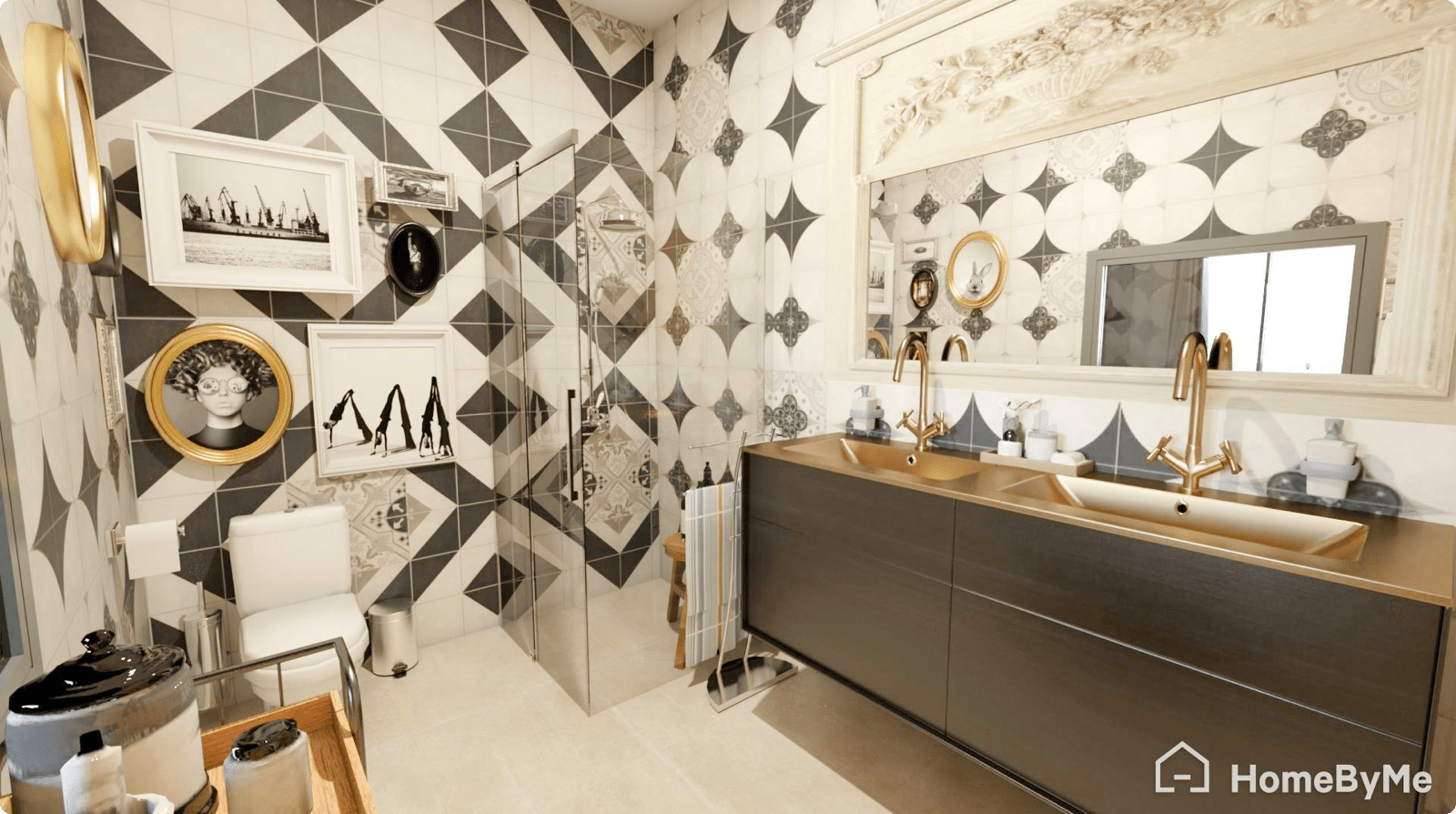 No matter your preferred style, you will be sure to find ideas for your interior design project in our Inspiration page. Visit industrial-style lofts, farmhouse kitchens, minimalistic scandinavian living rooms, vibrant bohemian bedrooms, and sleek, modern bathrooms to help get your ideas flowing.
You are an interior design professional and looking for a 3D tool to fulfill your customers? Our new
HomeByMe Pro website
will meet all your needs!
Make your Home Interior Design Project
Plan all the details of your interior design, then create and share 3D rendered images of your project in a few clicks!
Plan and visualize your interior design in 3D

Produce realistic HD images and 360º views

Share your interior design plan with your partners
Need help from a professional?
Relax while our Interior Design Service plans your redesign project for you. Let them handle your new decoration!
Discover
Create your 3D interior design project!
Start for free today and create your own 3D floor plan in no time! Then share the HD images of your project with friends, family or professionals.