Running out of ideas or need an expert eye for the decoration of your home project? We can help you to design your room!
Our team of professional interior designers is here to bring your ideas to life. Tell us about your tastes and lifestyle and they'll come up with a design room tailored just for you.
Choose the offer that suits best to your project, whether you want us to take care of one room or an entire open living area.
Discover our interior designers work
Before
After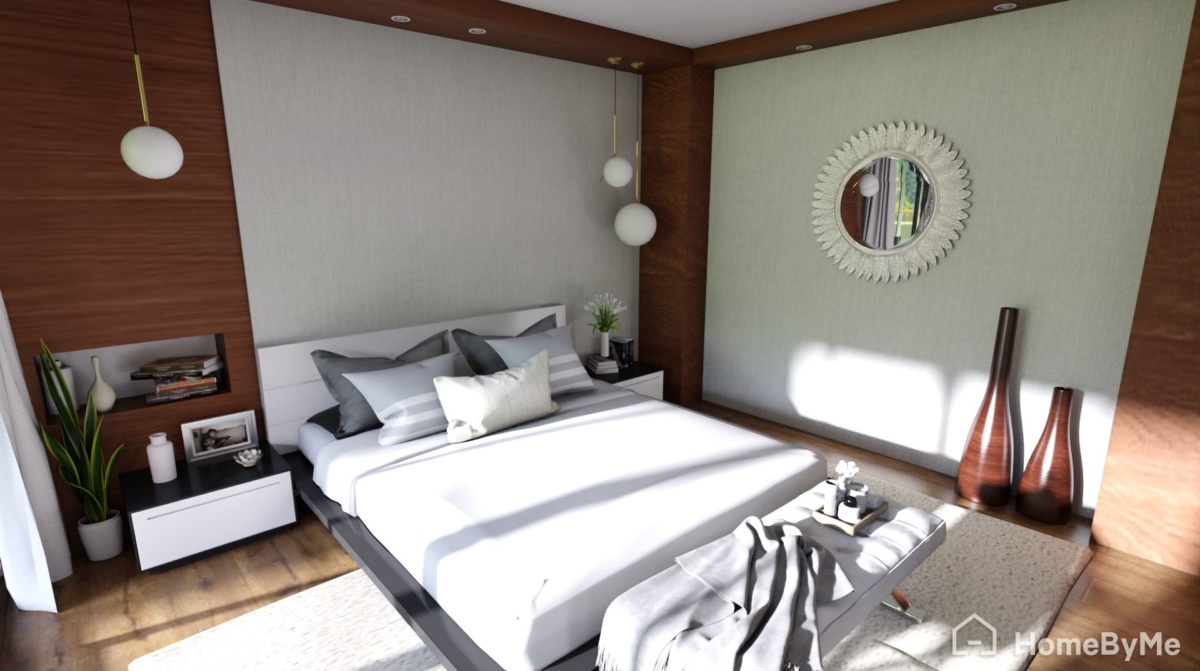 "This interior needed light. By adding light tones to the walls and furniture, it brightened up the room. The modern decoration completes the lightening of the space."
"Our client was looking to modernize his bedroom as it was too classic. So we proposed a more contemporary design, with a dominance of wood and a cosy aspect that is essential for a bedroom."
Choose the offer
Select the offer that fits your needs: a single room or a multi-purpose room (open plan living area, etc.).
Pick a room to redesign
In your HomeByMe project, select the room you want us to redesign.
If you don't have a project yet, create one or discover our "floor plan conversion" service.
Express your wishes
Help our interior designers understand what you have in mind by sending photos of your room and answer a few questions.
So they can tailor their design to your tastes and lifestyle.
Discover the home you deserve
Within 7 business days, receive your newly redesigned room. We will send you an amazing realistic image of your room and a personalized Design Book with a list of recommended products.
Your redesigned room in 3D
A realistic image of your redesigned room

Your shopping list (only available in French)
Tips and advice from our interior designers
Discover a selection of rooms
Created by our interior designers and based on our users taste.
HomeByMe is a service dedicated to the home, free and for personal use.
You can create up to 3 projects and 3 realistic images per account for free. In addition, you can buy packs of additional projects, realistic images or 360° images.
HomeByMe is a comprehensive online home-design service for individuals and professionals, including real estate agents, architects, interior designers, developers, and more. To use HomeByMe for commercial purposes, you must subscribe to our HomeByMe Pro service via the Services tab on your profile page.
Of course you can! You can modify your Pro subscription from your account settings.
If you currently have a monthly Pro subscription and you want to order the yearly Pro subscription, you will be directly upgraded to the yearly Pro subscription and charged for the whole year.
You can cancel your Pro subscription through your account settings at any time. Your subscription will then terminate at the end of the current subscription period. If you don't want to renew your subscription, simply cancel it at least 24 hours before the renewal date.
Try now, pick a plan later
Not ready to commit yet? Create your 3D project for free today and choose if you're ready to level up whenever you want!