Showcase your creativity and inspire our community
Be our voice! We'd love to hear from you and see your projects featured in HomeByMe. Inspire our community with your ideas and make the most of our solution to get amazing HD images!
Perks of Participation
Get perks and rewards for your contribution and participate in the growth and engagement of our community
Free pro subscription for a value of 299$ per year
Get Unlimited projects, Unlimited realistic renderings and Professional usage rights
600$ of 360° images free credits per year
Create 360° images to showcase your projects
150$ of Free "Draw floor plan"
To reward your community for HomeByMe contests
Get provisioning from our brand partners
Gift cards, real furniture... to give to your community
Be visible on our social network
Take advantage of our social networks to expand your community
Participate to our beta-test
Try out new features in preview
Ambassadors contribution
We need you to inspire our community with great qualitative content and to increase HomeByMe's visibility
Qualitative Content creation
Inspire our community with great content
Design 2 Projects/month on HomeByMe: Impress our community with your creation

Create HD images of your projects: Enhance your projects with amazing HD images
Social presence
Increase the visibility of HomeByMe
Share your projects: show your creations on your social media to inspire your community

Act as a power user: participate to our FB community or website via comments, tips… (optional)

Shine on social network: Engage our community and show your expertise via Instagram live (optional)
Meet our ambassadors
From decoration lovers to professional designers, they all share the same passion for home design!
"HomeByMe is an amazing program for detailing and visualising projects that come my way. I am so happy to be apart of such a wonderful company!" Alice Brooks, USA - Interior Decorator
Discover the project
"Being an ambassador for HomeByMe is an honor. The team is attentive to our needs both in terms of the catalog and the functionalities. Our voice is heard and it allows us to increase our notoriety on social networks thanks to our projects that are shared on the web." Alexandra, France - Interior Designer
Discover the project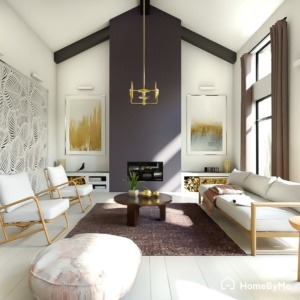 "From the first day I used it, I never stopped. Being an ambassador means so much to me because I'd have never believe that a year after, my passion would have attracted a so large community."
Aurelie Tshiama, United Kingdom - Interior Decorator
Discover the project
"I instantly fell in love. HomeByMe is very user friendly and makes creating residential spaces so fun and easy. I am so excited to be Canada's first HomeByMe ambassador and I can't wait to showcase my designs." Deanna Livoti, Canada - Interior Designer
Discover the project
Become a HomeByMe ambassador
Join our ambassador program to inspire our community and get rewarded!
Join the program