Discover how HomeByMe can help you in your interior design project
Enjoy a tailored made tool for all your projects!
Get the foundations of your project

Start your project by drawing your floor plan outline with the measures you want. If you already have a plan, you can import it and draw over it.
Then, add all the necessary equipment: doors, windows, fireplace, electricity installations. The structure of your interior is ready.
Try for free!
Furnish your home

It's time to get down to business. Add coating and coverings in all rooms: from floor to ceiling, everything is customizable.
If you're not sure about the aesthetics, switch to 3D view and walk through your home with your avatar.
Create your first project now!
Decorate your home

It's time to show your style! And for this, we have developed a catalog that lists all the articles of major brands, just to have the choice!
And if that's not enough, there is always furniture and generic objects.
To make your choice, go to the "Decorate" tab or the "Furnish" tab if you rather filter by rooms.
Discover our catalog
Bring your work to the world
Create great renderings in HD or 4K

Create lifelike images of your project thanks to our advanced technology. In HD or 4K, your visuals will give you a very precise impression of your project.
Get some image credits, open your project in 3D mode and click on the camera icon.
You can have the rendering you want thanks to precise settings: daylight or nightlight, orientation of the sun, outdoor backgrounds… Nothing is left out!
Try now!
Take a virtual tour of your 3D Home

Choose the first-person viewing mode to take a virtual tour of your own creation. The 3D graphics move seamlessly as your avatar walks from room to room.
Adjust the height of your view, drag up or down to adjust the viewing angle of the room and walk around your future home!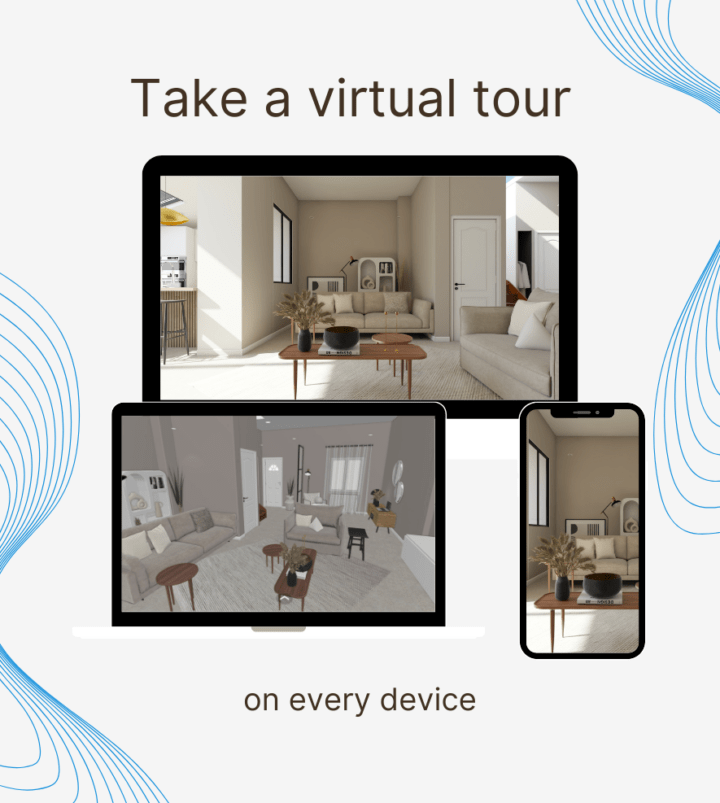 Create a 360° image
Do you feel like you prefer to show an overview of your project? Then get a panoramic view of your new home. You just need some 360° images credits, open your project in 3D and click on the camera icon, select "360° image" from the drop-down menu
Share your project easily
Proud of your creation? Share your 4K/HD/360° images, your floor plan or your screenshots in one click through all your social media!
Friends and family will visualize your ideas perfectly, as well as contractors and real estate professionals. And what about being part of the HomeByMe community?
Get your images in our Inspiration pages and be a source of inspiration for other users!
Try now!