How to use MakeByMe – our 3D modeling free tool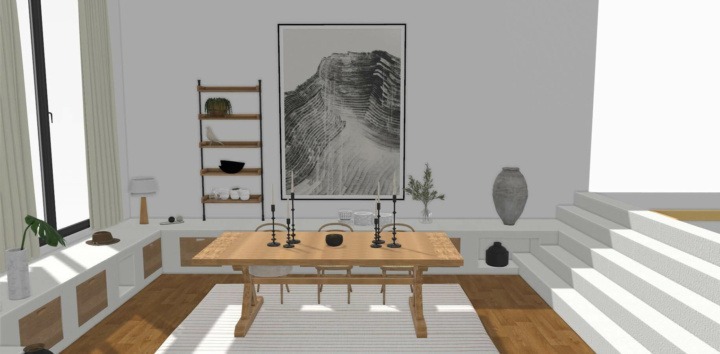 Create your personalized furniture

Add it to your HomeByMe project

Test and compare the shapes, the positions
The simplicity of MakeByMe
You can see it clearly in your mind: bookshelves that slot into the nook in your living room as if made to measure, or a desk that perfectly occupies the space between the bed and the window in your guest bedroom. But you just can't find the right piece of furniture in real life. So why not design it yourself?
At HomeByMe, we want to give you the freedom to do exactly that without needing to invest in costly modeling tools or other CAD software. That's where MakeByMe comes in, a 3D design software free of charge for you to use. This 3D modeling free software allows you to create a design, model your furniture in your virtual home and receive simple instructions to build your custom DIY furniture yourself. As if that wasn't good enough, our design software is easy to learn and suitable for both professional designers creating plans for clients or amateur interior design lovers.
How can I create furniture with 3D modeling software?
Once you've set up your room in the HomeByMe planner, you'll be able to accurately measure the space where your piece of furniture should go. Using the 'Furnish' option, our completely free tool offers you the chance to create a custom design for a wide range of furniture items with these measurements in mind. You can also select the tools you have available to build the final piece.
Whether you wish to create a dining table, bookshelves, a coffee table, or an outdoor bench, our MakeByMe 3D modeling free software accompanies you step by step to make your vision reality. You can customize every aspect of the piece of furniture from the material, length, width and depth right down to the hinges and the screws. In the free software, every component of your furniture can be selected from a list of real-life items to ensure the completed piece will be identical to your design. The same results as 3D printing but without the hefty price tag!
We've designed the MakeByMe free 3D modeling software to suit all levels of experience. It doesn't matter if you're a seasoned user of interior design software programs or an amateur DIYer, you can use a free CAD software to become a pro of DIY furniture. For those who feel a little unsure, we also have a wide range of articles designed to guide you along the way, such as Build DIY desks easily with a 3D tool or How to make DIY furniture with a 3D software.
Can I view my designs in my home in the free design software?
Once you've created your piece, it's only natural that you'll want to see it in your living space before finalizing the design. Use the free design software to insert your furniture in your virtual room and play around to see what works best. Fancy some design modifications? Adjust it with ease using the icon tools at the bottom of the screen and drag and drop components within the free design software or copy, delete or rotate them.
Do you feel like the design is lacking that certain something? Add hardware like for the finishing touches and view your creation in the design software. The sophisticated motion tracking feature with the animation simulation allows you to walk through the room and get a realistic feel for the final result. This means you can avoid expensive mistakes and ensure your item is perfect down to the last detail before you start to build.
Can online 3D modeling help me build furniture?
No 3D printer needed here! By following the simple instructions generated for your design in our 3D modeling free software, you can build your custom furniture yourself. With every change you make in our online 3D modeling solution, the instructions will be updated in real time. You'll also receive a material shopping list, a list of the necessary tools and a cut list, ensuring nothing is forgotten.
Don't let a lack of practical experience hold you back from using our MakeByMe to make DIY furniture. Even if it's your first time working with wood, we can offer useful tips and advice on how to use wood for DIY projects and how to prepare your wood projects the best way with an online software.
The MakeByMe design software: free, easy and fun. Let your imagination run wild as you create perfectly customized furniture for your unique home and join the community of HomeByMe 3D deco lovers.
How to use 3DbyMe – our 3D modeling free software
Learn all the tricks to use our new furniture modeling tool!
Create your personalized furniture

Add it to your HomeByMe project

Test and compare the shapes, the positions
Get started!
Start for free today and create your own 3D furniture in no time! Then share the HD images of your project with friends, family or professionals.