How to design or redesign your Home Office?
Implement a design or color theme

Maximize your office storage

Brighten up your workspace
Your home office space can affect both your productivity and your mood. Use these tips tofet to know how to redesign your home office today!
The HomeByMe online floor planner helps you to bring your home office design ideas to life. Design and decorate your home office with our intuitive floor plan generator and then take a virtual tour in 3D.
Are you in need of some inspiration for an upcoming home office redesign? Whether you work from home or use your home office on weekends and evenings, it's important to have a comfortable and practical office space. Regardless of the size of your home office, we can help you to brighten and optimize your space for a beautiful and functional office area.
Choose ergonomic furniture
Working from home can be great, when you have the right setup. If you work on a laptop, consider investing in a stand and a full-sized keyboard and mouse to avoid spending your days hunched over your screen, which could otherwise lead to neck and back pain. Choose a comfortable chair with an adjustable height to allow you to maintain great posture. Alternatively, you could try sitting on a swiss ball, as it can help to improve core strength, or even experiment with a standing desk arrangement.
Transform unused spaces and furniture
You might think that you don't have any space in your home for an office, however, you should consider doing a walkthrough to find an unused nook or corner that can be transformed to accommodate a desk. Furthermore, many of us have pieces of furniture, such as tables or vanities, that go unused. Think outside the box about how you could repurpose these pieces and use them to create your home office. Add final details such as a desk lamp and some floating wall shelves or a cabinet for storage.
Brighten up the room
It's important to have ample lighting in your home office, in order to maximize your concentration and assist your eyes, especially if the space has been converted from a spare room. Assess both the overhead lighting and natural light available, to see where the shadows are falling on your workspace and whether you need to add a supplementary light source. A reading lamp on your desk can be a stylish, functional and inexpensive addition to your home office.
Optimize your office storage
Storage is a fundamental component of any home office. Try to arrange it against a wall, using either specifically designed office cabinets or opting for dressers or sideboards, which will blend in better with your home. Filing cabinets are essential for storing important contacts and documents and HomeByMe's catalog has plenty of options to choose from.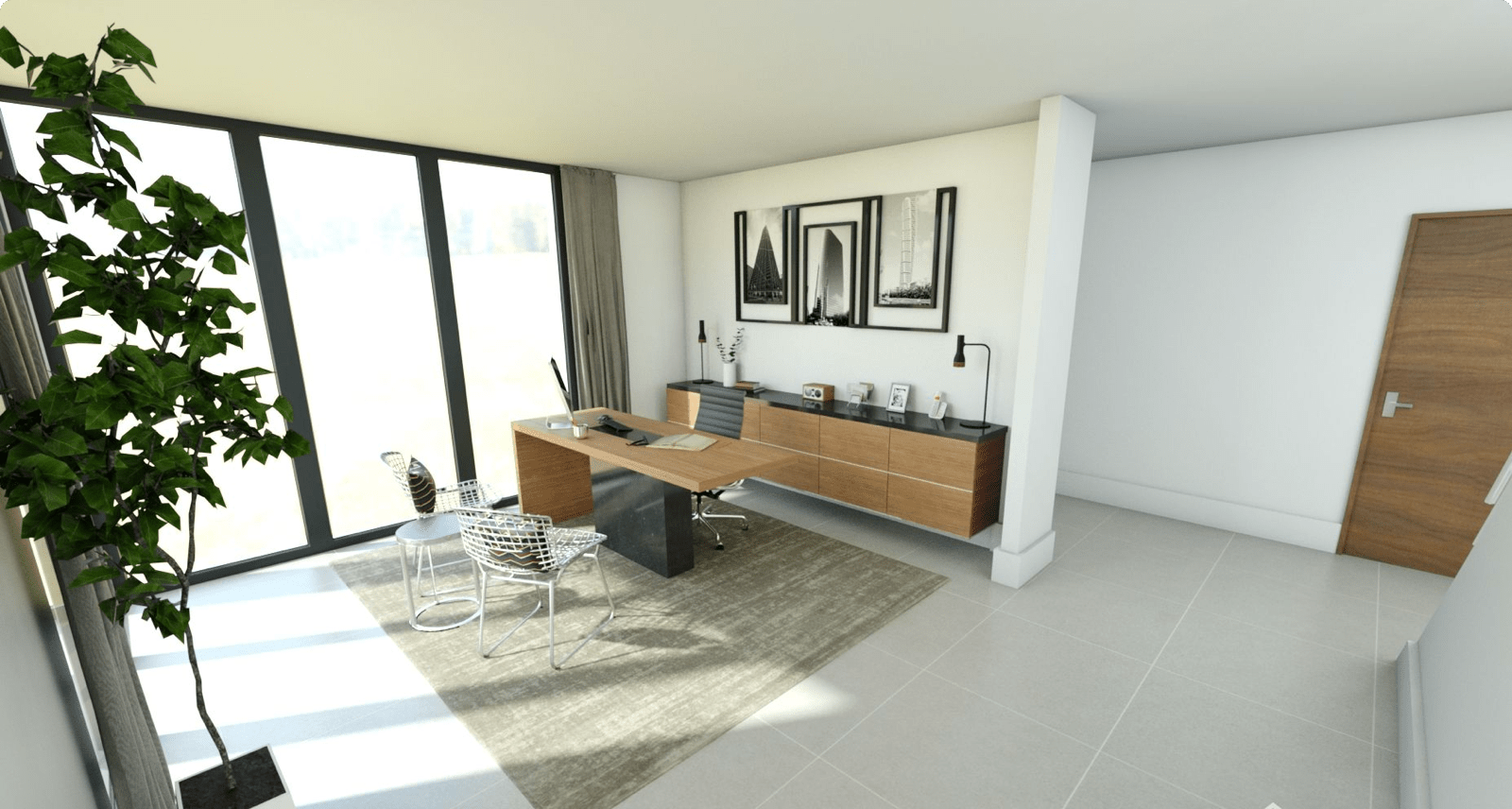 Choose a theme
If your home office needs a complete makeover, look for inspiration in current interior design trends and implement a design theme. Choose from styles such as an industrial design with metal accents, wood and exposed brick walls or perhaps create a shabby chic, farmhouse design by repainting and distressing your office desk. Creating an office with a unique and intentional style will better separate your work space from the rest of your home, helping you to mentally transition into "work mode" when you're in that space.
Use an accent color
Color can set the tone and energy of a room. If your home office is feeling tired and dreary, try adding some color in the form of a feature wall, a colorful rug or furniture. You can also add pops of color, using accessories, to lift the mood for an affordable price. Choose a color that puts you in a good mood and allows you to focus on your work and integrate it into your home office design.
Add a room divider
When choosing a space for your home office, you may be limited to any small nook which is available, after the main areas of your home are designated. Oftentimes, home offices are adjacent to the living room, which may offer great lighting, but might lack the discretion or separation necessary from your lounge space. One solution is to hang a lightweight curtain between the two spaces to allow for a physical and mental division between your living room and home office.
Use HomeByMe to create innovative and interesting home office designs as seen in the above examples. The intuitive interface of the HomeByMe online floor planner makes it easy to create your dream home design and experience it in 3D.
If you're having trouble getting started, you can find ideas for your site plan in our Inspiration page. Visit industrial-style lofts, farmhouse kitchens, minimalistic scandinavian living rooms, vibrant bohemian bedrooms, and sleek, modern bathrooms to help get your ideas flowing.
You are an interior design professional and looking for a 3D tool to fulfill your customers? Our new 
HomeByMe Pro website
 will meet all your needs!
How to Redesign your Home Office?
Consider incorporating these ideas into your home office design, in order to create a functional and stylish space.
Implement a design or color theme

Maximize your office storage

Brighten up your workspace
Redesign your Home office now!
Start for free today and create your own 3D site plan in no time! Then share the HD images of your project with friends, family or professionals.