How to Redesign your Bedroom?
Add a reading or meditation nook

Use lighting to set the mood of the room

Create a feature wall with paint or wallpaper
The bedroom is a place to relax and reboot. Include these design features to create a perfectly peaceful bedroom.
The HomeByMe online floor planner helps you to bring your bedroom design ideas to life. Design and decorate your bedroom with our intuitive floor plan generator and then take a virtual tour in 3D.
Are you planning to redesign your bedroom? Are you in need of some bedroom renovation and design inspiration? We can help you to brighten up your bedroom, navigate design and layout issues that often arise and optimize your space for a beautiful and functional bedroom.
Add shelving
Take advantage of blank wall space by installing floating shelves. Display trinkets, framed photos, scented candles and jewellery. You can also replace your bedside table with a shelf installed above your bed, to provide a convenient place for essentials such as a lamp, alarm clock and books, while freeing up space next to your bed. Standing open shelving is a useful alternative, if you want to avoid piercing the walls. Much like the floating shelves, you can decorate it with items such as cascading plants and souvenirs from your travels.
Use wallpaper to create a feature wall
Wallpaper has made its comeback in modern interior design. Its ability to have a dramatic impact on a space makes it a great addition when renovating a bedroom. Available in an array of motifs and textures and from an affordable starting price, why not create a feature wall using wallpaper in your bedroom? Use wallpaper to set the mood of the room and accessorize with complementary colors and objects.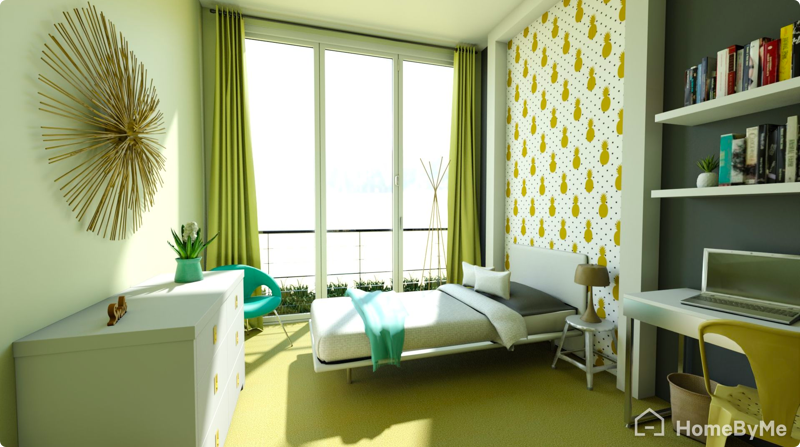 Choose multi-purpose furniture
Rooms are easier to keep tidy when each item has a home. When choosing your bedroom furniture, try to opt for pieces which serve multiple functions. One example is a bed with built-in storage underneath. If you are updating an already furnished bedroom, you can simply add rolling drawers underneath to store items like shoes. Rather than purchasing a big armchair for your bedroom, consider placing a bench seat at the foot of the bed or under the window, which has built-in storage for blankets, bedlinen and cushions.
Add a touch of luxury
Create a luxury penthouse vibe by adding a living space to your bedroom. Take inspiration from luxury hotel and apartment designs by arranging plush seating in the corner of your bedroom. Position an upholstered bench seat at the foot of your bed to create a design feature and offer a practical place to tie your shoes. Lastly, don't be afraid to include interesting patterns and textures when choosing cushions and statement pieces of furniture.
Paint the walls
Create a sophisticated and charming bedroom design by painting either the entire room or a single feature wall in a dark shade. This style works particularly well in rooms with a high ceiling, in order to maintain a sense of spaciousness, however, you should always opt for light ceilings and floors. Try a deep blue or green to create a sense of peace and calm in your bedroom and use lighting, such as a chandelier, to add a touch of luxury. Consider adding accessories, such as cushions and drapes, in a contrasting color to maintain balance in your design.
Mood lighting
Set a relaxing mood in your bedroom by installing some low light options. Create a whimsical vibe with fairy lights, which can easily be mounted to the walls using removable adhesive putty and connected to an in-line cord switch, in order to turn them on and off at the click of a button. Floor or nightstand lamps are a simple way to decorate your bedroom, and provide a great alternative to bright ceiling lights when you're winding down in the evening. Finally, add a dimmer switch to your main overhead light, to offer complete control and flexibility. You can complement the dim lighting with scented candles on your bedside table.
Set up a reading and relaxation corner
Placing an armchair in the corner of your bedroom adds another purpose to the room, by creating a space to read, journal or meditate. Set up a small table next to it, with a scented candle, your book of the moment and a notebook and pen, so you're always ready to jot down your thoughts. Having a sacred space to relax and unwind is important, given the busy lifestyles we lead in today's society. Choose an armchair that complements the existing furniture in your bedroom and add a small cushion and a blanket for comfort.
Use HomeByMe to create innovative and interesting bedroom designs as seen in the above examples. The intuitive interface of the HomeByMe online floor planner makes it easy to create your dream home design and experience it in 3D.
If you're having trouble getting started, you can find ideas for your site plan in our Inspiration page. Visit industrial-style lofts, farmhouse kitchens, minimalistic scandinavian living rooms, vibrant bohemian bedrooms, and sleek, modern bathrooms to help get your ideas flowing.
You are an interior design professional and looking for a 3D tool to fulfill your customers? Our new 
HomeByMe Pro website
 will meet all your needs!
How to Redesign your Bedroom?
Create a peaceful space for relaxation by including some of these ideas into your bedroom design.
Add a reading or meditation nook

Use lighting to set the mood of the room

Create a feature wall with paint or wallpaper
Need help from a professional?
Relax while our Interior Design Service plans your redesign project for you. Let them handle your new decoration!
Discover
Redesign your Bedroom now!
Get Started on decorating your room with our 3D solution, it's free!