How to Create a Floor Plan?
Create an accurate floor plan for your home remodel

Furnish your floor plan using Augmented Reality

Generate realistic HD images of your final design
Are you designing a new home or planning a remodel? Find out how to create a floor plan to manage your project from beginning to end.
Floor plans illustrate the outline of a property, including the home interior and garden areas, helping you to plan your home improvement and remodelling projects. They offer an overall view of the home design, including measurements and technical information, to assist with your project management.
Make your own floor plan with HomeByMe
Are you planning to remodel or decorate your home? HomeByMe is an online floor plan software, which enables you to easily design your ideal home and visualize it in 3D.
Create your floor plan in the space of a weekend, using our intuitive software, to test out various design options. Choose the layout of the rooms, the style of the interior, design the outdoor spaces and decorate your home using a selection of furnishings from our extensive product catalog.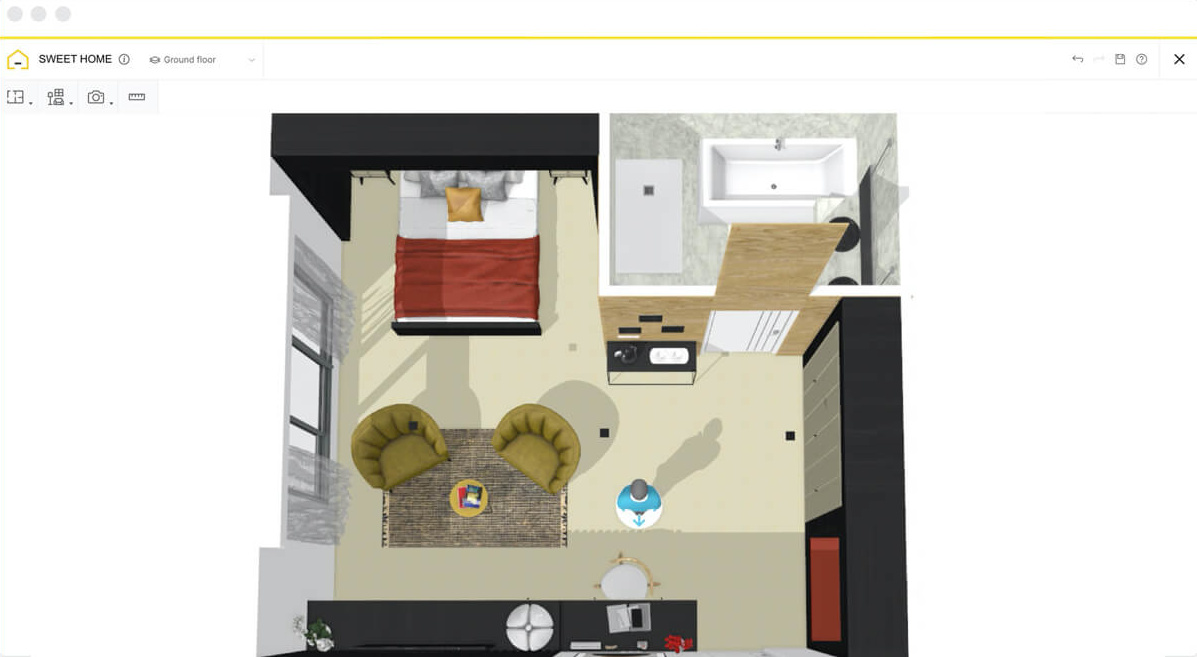 Create your project in 3 steps
1
Draw your 2D floor plan
Start by creating the outline of your floor plan, by drawing the walls and inserting windows and doors. Our user-friendly software doesn't require any previous design experience, so you can get started straight away! If you need to save time, our Floor Plan Creation Service can draw your 2D floor plan from a rough sketch.
2
Furnish your home in 3D
Now that your basic outline is complete, you can choose your flooring and wall coverings from a range of tiling, wallpaper and paint colors. Configure your kitchen and bathroom according to your needs and get creative with your lounge and bedroom furnishings. Add the finishing touches by inserting a selection of decorative items such as rugs, mirrors, curtains and plants, to really visualize how your home will look. Drag, drop, rotate and replace items until you create your ideal design.
3
Create and share images
Once you're satisfied with your final design, you can generate HD images of your project in 2D or 3D, to print or share online. Gather feedback from friends by sharing realistic HD images and 360º views of your property, showcasing your design from all angles. Send your project link to partners, so they can take a 3D virtual tour of the property, using the first-person perspective tool.
How to draw your 2D floor plan
Draw the outline of your home, by either inserting a suggested room shape or using the pencil tool to draw freehand. For added precision, you can input the wall measurements, to create your floor plan to scale.
If you have an existing floor plan of your home, you can save time by uploading it directly to HomeByMe. Then choose the scale and trace over the outline, to obtain an exact replica of your original floor plan.
Select and insert doors and windows from the product catalog. Generic windows and doors can be customized to fit your design by adjusting their dimensions and opening direction.
Add floors and stairs to create a multi-storey home and even create a mezzanine by adjusting the floor height.
If you need to save time, submit a rough sketch of your home to the Floor Plan Creation Service and receive your floor plan in both 2D and 3D, ready for you to decorate!
How to furnish your floor plan in 3D
Visualizing your floor plan in 3D helps you to immerse yourself in your design and make better decisions when furnishing your home.
Select furnishings from a range of brand-name or generic products within our catalog, including indoor and outdoor furniture, plants, and decorative accessories. You can even view your furniture in your home using Augmented Reality, to see how it would look in real life.
When you're ready to tour your project, switch to the first-person viewing mode for a realistic virtual walkthrough. Use a VR headset to truly immerse yourself in your project, while you experiment with different layouts and styles.
During the design phase, you can take screenshots of your 3D floor plan from any angle, using the 3D viewing mode. Once you've finalized your project, create high-quality 3D home decor images and 360º views of your project to share with friends and project partners.
Floor Plan Examples
Bedroom Floor Plan
Select from an array of floor and wall furnishings and home decor to design a bedroom that represents your style.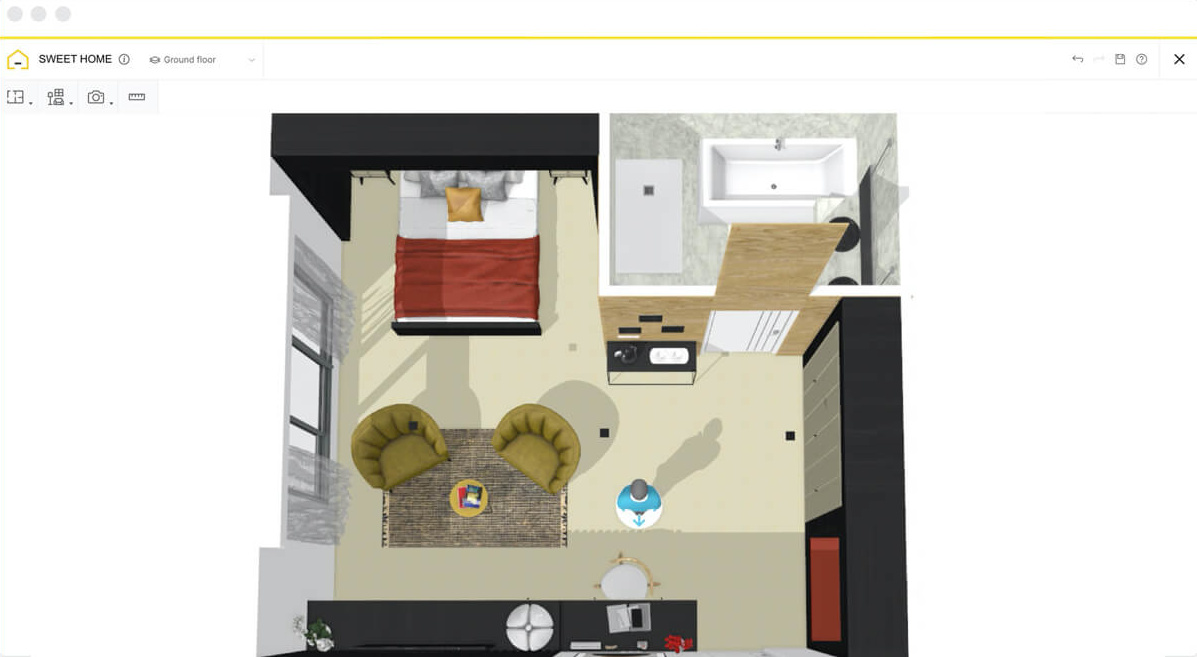 Kitchen Floor Plan
Experiment with different kitchen configurations until you find one that fits perfectly into your home.
If you're having trouble getting started, you can find ideas for your site plan in our Inspiration page. Visit industrial-style lofts, farmhouse kitchens, minimalistic scandinavian living rooms, vibrant bohemian bedrooms, and sleek, modern bathrooms to help get your ideas flowing.
You are an interior design professional and looking for a 3D tool to fulfill your customers? Our new 
HomeByMe Pro website
 will meet all your needs!
How to Create a Floor Plan?
Design your dream home or manage your home remodelling project using HomeByMe to map out your entire floor plan in 3D.
Create an accurate floor plan for your home remodel

Furnish your floor plan using Augmented Reality

Generate realistic HD images of your final design
Need a helping hand?
Give us your plan and our team will create your 3D project. Then you'll only have the fun part left: decorate your house!
Discover
Make your 3D floor plan!
Create your own floor plan in no time! Then share the HD images of your project with friends, family or professionals.