How to remodel a small bathroom?
Test different layouts and decorations easily

Explore the area in 3D to better define the project

Create quality renderings to share your ideas
Is renovating a bathroom a hassle? Choose to carry out your project with the help of a 3D planner, essential for renovating small spaces. Follow the guide.
As we know, the bathroom is not the easiest room to design. With too many technical constraints (plumbing, equipment installations,…), it is often one of the most cramped rooms in a home, being even devoid of any natural light.
But what is a project without a little challenge? With a little organization and a powerful 3D solution, you can complete the most daring bathroom design project. Nothing could be easier! In just a few clicks, you can recreate the room you want to fit, then add all the fixtures you want: bathtub, shower, sink or toilet.
Trendy brands or not, let your creativity speak for itself with a decoration that will hit the spot with our large catalog of design products. We tell you more about the steps you must not neglect for the success of this renovation.
The prior steps to think about when designing a small bathroom
Set a budget
One might think that the cost is proportional to the size. However, when it comes to furnishings and decorations, this logic is far from being true. Furniture and appliances designed for small spaces are often much more expensive than the average and – even if the trend is towards mini bathrooms – the choice remains limited.
The first step is to determine a budget that should not be exceeded. This will help you avoid unpleasant last-minute surprises and will give you a clear idea of the type of furniture to invest in.
Choosing bathroom furniture
From contemporary to shimmering vintage, minimalist to organic looks, the options are truly endless these days to make even the most random bathroom worthy of Instagram story influencers.
If you're not quite sure which artistic direction to take, it's always possible to find inspiration online and especially on our feed fed by the creations of our community.
Color panels, coverings, vanities and shower equipment are the first things to find. The rest will follow as you search. Put it all together in the best way possible, taking into account plumbing constraints, with 3D modeling.
Designing a 3D bathroom decor
For a long time, 3D was the domain of interior design professionals. Then furniture and DIY stores participated in the democratization of these digital tools.
Today, professionals and amateurs alike use these 3D solutions, well aware that this is the only way to test several scenarios of decoration and layout.
A tool such as HomeByMe, allows you to easily drag & drop all the decorative objects you want. To be able to have a preview of the final design, without having to try to imagine what a piece of furniture or object would look like in the room.
Add, remove, move… And finally, immerse yourself completely in this future room: A 3D planner is above all an assurance of success.
Planner 3D: the step-by-step manual for designing a small bathroom
New on HomeByMe? Don't worry, we make it a top priority to make our tool accessible to everyone: more ergonomics without compromising performance.
Take the measurements of the bathroom
A key point of the project is to create a plan that reflects the actual dimensions of the room. Nothing should be left to chance: the length and height of the walls, the positioning of electrical outlets, water inlets, etc. The slightest mistake could cost you dearly!
Create a 2D bathroom plan
There are several possibilities: for the more experienced, the classic way is available: you draw the outline of your plan with the pencil cursor, the dimensions running along your lines.
The other solution would be to select a predefined shape and add the desired dimensions (area in m² and dimensions in cm).
These two possibilities are proposed to you at the beginning of the project. You are of course free to add other pieces later.
Don't forget to add the doors and windows, as well as the electrical installations on the wall, which are too often forgotten in renovation projects.
Start designing the bathroom
Once the plan is drawn, click on the "Products" tab of your navigation bar, then on "Furnish". You will then find a section dedicated to bathrooms, with a large choice of decorations and furnishings:
Sinks and faucets
Bathtubs and showers
Toilets
Mirrors
Towel racks and towel dryers
Storage
Washing machines and dryers
Accessories
Note that each catalog has a wide selection of trendy brands, but also generic items, so that everyone can find what they are looking for and faithfully reproduce the interior.
Test your bathroom design ideas
The luxury of being able to make mistakes! Of course, decorating begins with the choice of showers, bathtubs, etc. But in interior design, the devil is in the details.
What if, after all, you would see wallpaper instead of tile on that wall? Maybe more vegetation would create a tropical look ideal for a powder room? Subdued lighting? Trinkets or simple storage?
As you can see, anything is possible on HomeByMe. Go to the "Products" tab, then click on "Decorate", to find all the remaining elements to modify:
Paint and wallpaper
Tile and stone
Flooring
Decoration accessories
To avoid getting lost, you can filter the catalog by design style, by material, by brand or by color.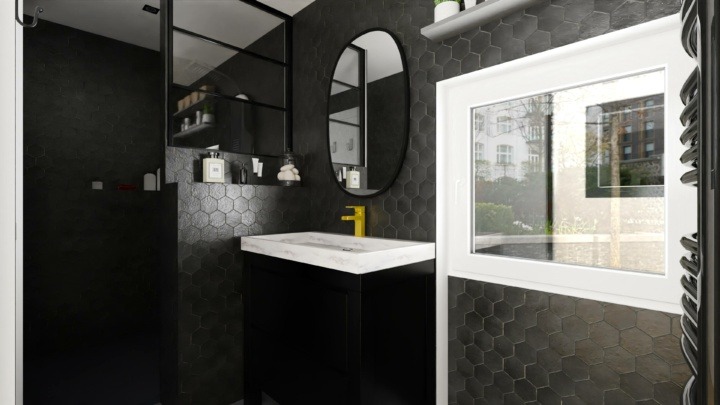 3 bathroom decorating ideas to keep in mind
1
Go for bold patterns
Once old fashioned, pattern is making a big comeback in interiors. It's an easy way to bring warmth and depth to a room, which explains why more and more patterned wallpapers and tiles are popping up in bathrooms.
Looking for a "tropical shower" vibe? Put a palm tree or delicate flower patterned wallpaper on a wall. If you can't see it in your mind, make a realistic picture to get an idea of how it will look.
2
Think of the wood touches
Wood can be combined with all styles and colors. The advantage of this material remains the warm and friendly aspect it brings to a room. Perfect for a bathroom, where we tend to look for a serene atmosphere.
Vanity and storage shelves can be chosen in wood. Why not embellish the room with small woody touches with the addition of a step stool or a slightly rustic stool?
3
Get your stuff in order
Small spaces mean optimized storage! No more messy closets with a bunch of visible cosmetics. Opt for wall shelves and closed closets.
Think about making compact storage areas: classify your products and group them in baskets or boxes, you will find them better, it will be easier for cleaning and of course, more aesthetic.
Don't hesitate to go to the "Storage" category in the "Bathroom" section of the planner, you will find everything you need to have a well organized bathroom!
How long does a bathroom renovation last?
The bathroom being an essential room in terms of daily use, making the work last can be very embarrassing.
The time frame will of course depend on several factors, but it is certain that the more prepared you are, the less time it takes. Having a plan modeled to the nearest cm of what you want will be the best way to go faster.
So, what are you waiting for to get started? Interior design has never been easier than with HomeByMe!
Remodel a small bathroom
Leave nothing to chance in your design project by using a simple and powerful 3D solution.
Test different layouts and decorations easily

Explore the area in 3D to better define the project

Create quality renderings to share your ideas
Remodel a small bathroom
Take full advantage of the benefits of 3D to design a bathroom efficiently, and then share your work in HD/4K quality!