How to Create and Furnish your 3D Floor Plan?
Furnish your floor plan using Augmented Reality

Select furnishings from a range of trusted brands

Visualize and test different room layouts in 3D
If you're launching a home design project, you'll need a detailed plan. Find out how to create and furnish a 3D floor plan with HomeByMe.
When it comes to designing your home interior, it can be difficult to use your imagination alone, to visualize a room layout and its furnishings. HomeByMe takes the guesswork out of interior design, by allowing you to create a 3D floor plan, to see exactly how your furniture would look in your home and to help you choose the best layout.
How to create your 3D floor plan
Creating your own high-quality 3D floor plan is quick and easy, with HomeByMe. Rather than hiring an interior designer to plan your home remodel, why not create your own floor plan in your free time? If you are short on time, HomeByMe offers floor plan creation services at a very affordable price.
Start by drawing your floor plan outline in 2D, consisting of the walls, windows and doors, and then select the 3D viewing mode to furnish your home in 3D. Move your avatar around your floor plan to visualize your design from all angles, and zoom in and out to see the details. HomeByMe's technology instantly creates a realistic 3D home decor rendering, allowing you to tour your property as if in real life.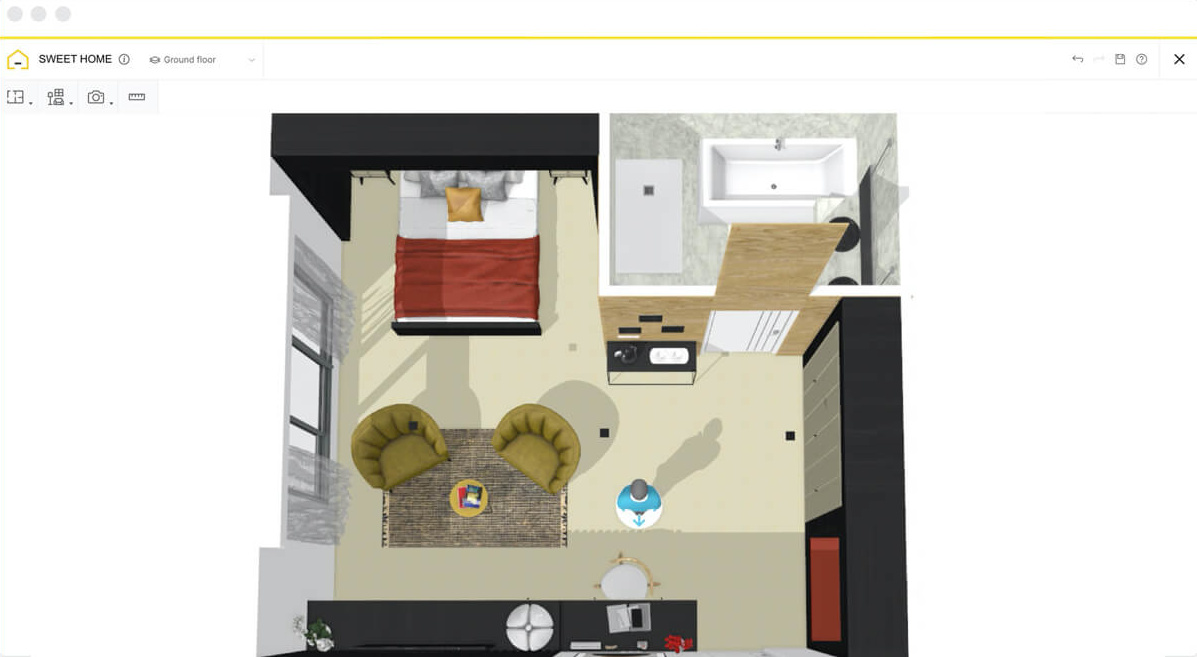 How to furnish your 3D floor plan
HomeByMe's easy-to-use online software allows you to select a variety of furniture and decor to insert into your 3D floor plan with precision.
Insert brand-name furniture
Visualize your design in 3D, while you furnish and decorate your home. HomeByMe's extensive catalog includes a range of brand-name products to suit your personal style. Select products from renowned brands including Habitat and Maisons du Monde, and find out product information such as their price and dimensions.
Test room layouts
Experiment with various furniture layouts within your 3D floor plan, to find the best design for your home. The possibilities are endless! Take into consideration the circulation within your home, when choosing your furniture placement, as well as the needs of your household.
Customize your furniture
If you have a specific furniture design in mind, choose a generic product from our catalog and personalize it to suit your needs. Modify the dimensions, color and texture of the furniture to match your interior design style.
Visualize your furniture with AR
The HomeByMe Augmented Reality application allows you to preview furniture in your home using your smartphone. Visualizing the furniture to scale, as it would sit in your room, eliminates any uncertainty about your choice, making your decision easy!
Why create a 3D floor plan?
3D floor plans are a valuable tool during a home design or remodelling project, as they offer an accurate representation of how an entire home would look, before starting construction.
HomeByMe offers an immersive design experience, which allows you to visualize your 3D floor plan from any angle and change the layout or furniture within your home or garden areas. Use a 3D floor plan to develop spatial awareness in your home and experiment with different furnishings and design styles in an instant.
Once you're happy with your design, share your 3D floor plan online, so others can take a virtual walkthrough, or create a 360° image, which offers an interactive view of your home.
Create and print HD images of your 3D floor plan to help explain your design during meetings with suppliers and builders.
3D Floor Plan Examples
3D Bathroom Floor Plan
Create the desired atmosphere in your bathroom by choosing a color theme and selecting tiling and accessories to match.
3D Living Room Floor Plan
Choose from a range of brand-name lounge furniture within our product catalog to create your ideal living room.
3D Kitchen Floor Plan
Customize your kitchen to suit your needs by selecting generic kitchen cupboards and benchtops and adjusting the dimensions to fit your space.
If you're having trouble getting started, you can find ideas for your site plan in our Inspiration page. Visit industrial-style lofts, farmhouse kitchens, minimalistic scandinavian living rooms, vibrant bohemian bedrooms, and sleek, modern bathrooms to help get your ideas flowing.
You are an interior design professional and looking for a 3D tool to fulfill your customers? Visit our
HomeByMe Pro page
will meet all your needs!
Create 3D floor plans
Plan and visualize your home design online using a 3D floor plan. Preview your design before transforming it into a reality.
Furnish your floor plan using Augmented Reality

Select furnishings from a range of trusted brands

Visualize and test different room layouts in 3D
Need help from a professional?
Relax while our Interior Design Service plans your redesign project for you. Let them handle your new decoration!
Discover
Furnish your 3D Floor plan!
Start for free today and create your own 3D floor plan in no time! Then share the HD images of your project with friends, family or professionals.