How to draw a 3D Bathroom?
Quickly draw your 3D bathroom plan to scale

Add furniture according to the room's specificities

Share your ideas with larger-than-life images
Do you have a bathroom renovation project in mind? If there is one room that requires 3D modeling before any renovation project, it is this one. We tell you more.
Like the kitchen, this room is one of the hardest to renovate. Because of the restrictions imposed by the plumbing system, the frequent lack of openings to the outside and the limited surface area, the stakes are not only aesthetic.
More than anywhere else, the functional must be considered as much as the beautiful. Install a vintage clawfoot bathtub, yes! But is there room for a shower for everyday use? A double sink is ideal for couples, but will there be enough storage space left?
Unlike other rooms in the home where decorating can be done over time, the bathroom must be thought out and designed before any work begins.
That's where HomeByMe enters the picture! Thanks to this 3D planner, you will be able to test all your ideas – even the craziest ones – before buying anything.
Whether it's a total renovation with a change of water installations, an extension of the room or something else. Or a simple decorating refresh: test, add, remove, move all the big brand (or generic!) objects and furniture endlessly. That is, until you've designed the perfect bathroom.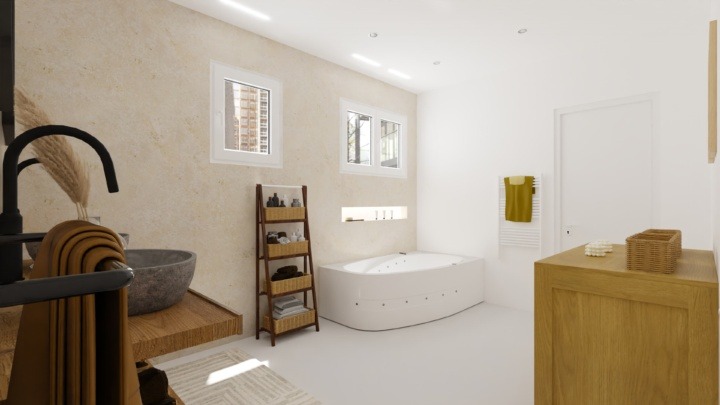 Start designing a 3D bathroom
With HomeByMe, design a bathroom in the blink of an eye! We explain the main steps to design your 3D project easily:
First things first: create a bathroom plan
Start by designing the layout of your bathroom, otherwise known as its foundations. This includes the walls, doors and windows, as well as any other architectural elements that make up the structure of the room.
To do this in our 3D planner, access the toolbar at the top left of the screen. Click on the first "Floor Plan" icon to reveal the drop-down menu. Select "Add Wall", and you will be automatically redirected to a 2D version of your plan.
Choose the thickness of your walls, then use your cursor – transformed into a pencil – to draw your walls, the measurements will be displayed as you go along. If this seems time-consuming or complex, you can choose to create your plan according to pre-defined rooms.
Choose a shape, fill in the desired dimensions, then insert it directly into your project. Once the walls have been created, all you have to do is add the doors and windows. To do this, click on the "Products" icon in your navigation bar, then on "Build" in the drop-down menu.
You will have a multitude of choices for your doors and windows, enough to reproduce the bathroom in question:
Swinging, patio, garage or sliding doors
Single, double or sliding windows
French windows or roof windows
It's all there!
Finish integrating the basics of your project by adding all the essential amenities of a bathroom: electrical installation, heating and air conditioning, plumbing or other, everything is in the "Technical equipment" section of the "Build" tab.
How to install the floor and wall covering of a bathroom
The next step, and not the least, is to choose and add the floor covering. Go to the "Decorate" tab in the "Products" section to start.
There you will find a wide selection of designs and materials to choose the ideal floor and wall covering for this room:
Tiles (wall and floor), most commonly used for bathrooms
Mosaic
Concrete and bricks
Natural stone
Parquet flooring
Carpeting
Vinyl, resistant to water, it can be considered for a bathroom
Paint, wallpaper and paneling
Just click on the material of your choice to access the large catalog available.
Add furniture to a bathroom in a few clicks
Now that your room is complete, all you need to do is furnish it. Let's start with the most important equipment, i.e. the shower/tub, the sink and the potential toilet. Go to the "Bathroom" category in the "Furniture" section of the "Products" tab. Everything is there to make this bathroom complete: from faucets to mirrors, from storage furniture to towel racks.
If you have a particular style in mind, or a favorite brand, feel free to use the filters on the left side of your screen. Among other things, you can filter this catalog of content by style, material, color and brand.
How to decorate a bathroom in 3D
The devil is in the details, even more so in interior design.
Those finishing touches, such as a beautiful mirror and lighting fixtures, are paramount to giving your bathroom a consistent style and trendy look. Browse our extensive catalog of decorative items for every style, you're spoiled for choice!
Virtual visit of a bathroom, it's possible
Your project is ready and you are proud of it. Now it's time to show it to other people. A simple 3D view of your plan is of course not enough to help projecting and especially realizing the full potential of your ideas.
First thing, make ultra-realistic 4K images. Thanks to our photo studio technology, generate photo-like images of the interiors you design, very simply. Choose the atmosphere thanks to a particular luminosity (golden hour, night, Scandinavian light…), select a spot according to several proposed, and click to take the picture!
If you want to go further in the immersive experience and convince your family or your customers, it is possible to generate a 360° tour, in a few clicks as well. At HomeByMe, we do everything to simplify your life: we set up the shots so that you only have to click on GO!
With a 3D project, leave no room for error when designing a bathroom. It allows you to test all your decorating ideas endlessly and, if you are ever short of inspiration, don't hesitate to have a look at the countless creations of our community! Testing, evaluating costs and sharing decisions, there are only advantages to modeling your design projects in 3D!
Draw your 3D Bathroom
Map out your dream bathroom using HomeByMe to draw and visualize your design in 3D.
Quickly draw your 3D bathroom plan to scale

Add furniture according to the room's specificities

Share your ideas with larger-than-life images
Draw a 3D bathroom now
Your design project in no time, it's free! Then share your work in HD/4K.