How to Draw a 3D Bathroom?
Create your perfect bathroom in 3D

Try it in your virtual home

Be sure your furniture is perfect before getting things real
Have you been dreaming of modernizing your shower, adding a tub, or having a spa-inspired bathroom design? You can do it all using our 3D design planner. It's free, easy-to-use and lets you virtually create your dream design all on your own.
Aside from benefiting you and your family, remodeling the bathroom is one of the best ways to increase the value of your home. And today, refreshing your current space or constructing a completely new design from the ground up can be done efficiently and hassle-free thanks to advanced virtual software like our HomeByMe planner. This modern drag-and-drop interface is so easy, anyone can use it – no design or tech skills are necessary.
Our design planner lets you experiment with any and every element that you want – from bathtubs to showers to tiling to flooring to sinks and everything in between. Discover the ideal layout to make your space more efficient, learn which spa-like features look best, and which color palette will create those calm and soothing vibes that you want to experience after a long workday. To get started, check out our tips on how to draw a 3D bathroom below.
Getting Started with Your 3D Bathroom Design
The HomeByMe planner makes it easier than ever to construct your own design from scratch. Here's how to get started with your 3D bathroom design:
Create the Layout
Begin by designing the layout of your bathroom. This includes adding in the walls, doors windows, and any other architectural elements included in the structure of the room. To do this in your HomeByMe planner, go to the toolbar on the top left corner. Click on the first icon to reveal the dropdown menu. Here, you can select Wall which will take you to a 2D version in your planner. Using the pen-like icon and measurements, draw in each wall until it accurately appears just like your bathroom.
To use a room shape template, click on Room and then adjust the settings accordingly to reflect your outline. Add in any windows and doors by navigating to the second icon on your toolbar and then click Build. This offers many options for configuring windows and doors as they appear in your home. From here, you can also insert any utilities such as radiators under the Technical Equipment menu.
How to Create Your 3D Bathroom Floor
With the layout of your bathroom finished, it's time to show you how to create your 3D bathroom floor. Just head to the Decorate tab on your toolbar to get started. From here, you can choose from a range of flooring designs and materials. Floor tile is, of course, the most common choice since it holds up well to moisture. To view different tiling options, click Wall and Floor Tile under the Tiles & Stone menu.
Here, you can also check out an array of wall tiles, including mosaic patterns and stunning herringbone marble. Vinyl is another ideal floor option to consider in the bathroom due to its water-resistant properties. You can browse the selection under the Vinyl tab.
How to Add 3D Bathroom Furniture
Now you're ready to add 3D bathroom furniture such as the shower, tub and sink, and position them in your bathroom. You can start adding them in using the Furnish option under the second icon on your toolbar. Under the Bathroom menu, you can customize your space with many unique designs. For specific styles, like modern or retro, take advantage of the sidebar filter on the left to discover a more tailored selection.
If you've been dreaming of adding a luxurious bathtub or want to modernize the shower with a glass door, you can experiment with these too under the Bathtubs and Showers menu. Every item you select can be dragged and repositioned to organize your space as efficiently as possible.
Get creative with your vanity and sink too by exploring the Sinks & Faucets menu. From elegant marble counter tops to classic washbasins – find it all right here to add, compare and discover what you love.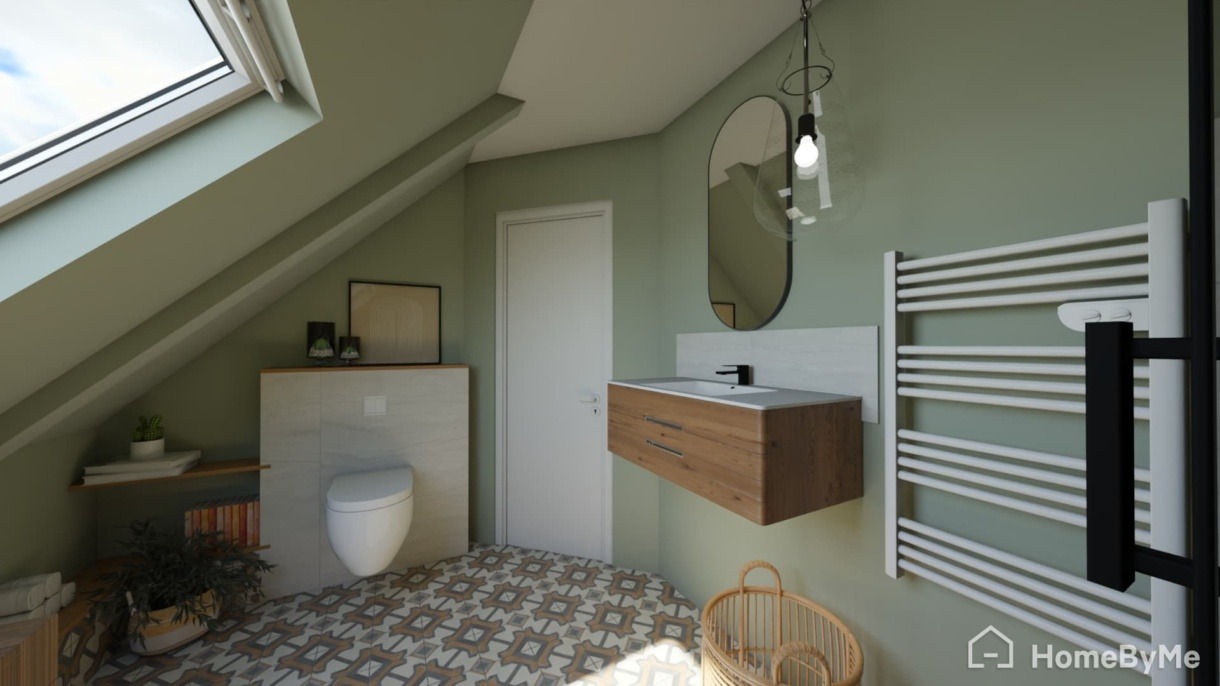 How to Accessorize Your Bathroom
Finishing touches like the mirror and lighting features are crucial for making your bathroom look luxurious and cohesive. Thankfully, you can find these all conveniently in your planner too. Under the Decorate menu, there are many options to check out. For various mirror designs, click Decoration Accessories, Home Décor, and Mirrors. From antique to full-length, you can experiment with many specific styles.
Take a Virtual Tour of Your Bathroom
Once your design is complete, or when you want to get a realistic feel for the layout, take a tour of it. You can enter your virtual bathroom by navigating to the View Mode on the main screen of your planner towards the bottom center. Click on the two footprints on the right side of the 3D icon.
This will take you directly into your design. You can move around and take an entire 360-degree view to admire your new creation, see how it flows or adjust anything that might need some tweaking.
Creating your own 3D bathroom layout lets you optimize every aspect with numerous capabilities to customize it as you please. You can even estimate the cost of your project and modify it accordingly by viewing the price of each feature you select in the planner. There has never been an easier and more enjoyable way to design your interior!
Draw your 3D Bathroom
Map out your dream bathroom using HomeByMe to draw and visualize your design in 3D.
Create your perfect bathroom in 3D

Try it in your virtual home

Be sure your furniture is perfect before getting things real
Draw your Bathroom now!
Start for free today and create your design project in no time! Then share the HD images of your project with friends, family or professionals.