How to create your own home office design?
Create your perfect Interior decor in 3D

Try it in your virtual home

Be sure your furniture is perfect before getting things real
How to design a home office to create a productive work environment
From the space available to the accessories such as a desk chair and the location of your laptop, every detail counts.
Start by planning the layout of your home office with the HomeByMe planner. You can work out where everything can be placed before you bring your ideas to life.
When thinking about how to design a home office consider these important points when using the planner:
natural light
storage
position of the desk and office chair
color of the room
These all influence your motivation and well-being when you're working.
The latest modern home office design trends
A work area with all the latest technology and a functional layout can make you more productive.
Smart and chic is the key to modern home office design. Keep furniture to a minimum and avoid clutter. Use the 3D planner to design your office with plenty of storage to keep things tidy. The app also shows you how to make your own office storage, so you can tailor it to your needs.
If you work from home and you have an office set up in the living room or dining room, use a partition to separate your work space.
Made to measure furniture is a popular choice and can be designed to fit an available space such as an alcove. Not sure about your home office design ideas? You can try out your interior design skills using the 3DByMe solution before you bring them to life.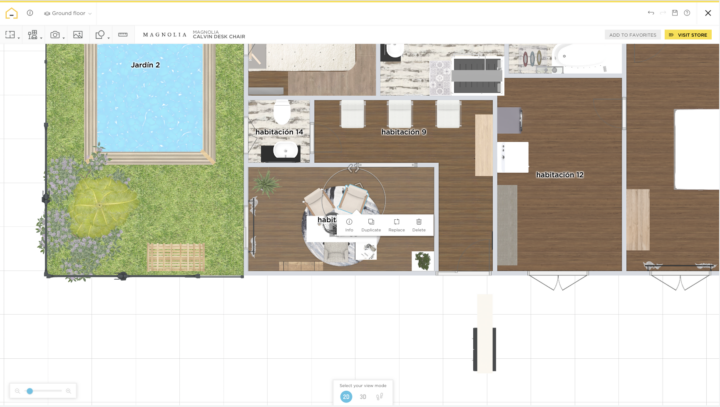 Unique ideas home office interior design ideas to make you look forward to working
Whatever you do if you work from home, it's essential to tailor-make your office design to suit your needs.
An office decorated in soothing colors is calming and can influence your mood. If you have a stressful job, you may prefer neutrals or plain black and white, while creatives might be inspired by bold colors.
Why not theme your office with something you love? If you enjoy nature fill it with plants and flowers, techies might feel comfortable surrounded by dark colors while your favorite pictures or photos as a gallery wall will connect you with life outside work. You can try out all these ideas in virtual reality using the design tool, so if that wall clock or noticeboard doesn´t look right you just swipe and move it.
Home office interior design ideas can be as individual as you want them to be – it's time to implement your decorating ideas with the help of the 3D Home Design tool!
Small home office design – yes you do have the space!
Even the smallest home can find room for an office and this is where the 3D planner can really help. Think about redundant spaces in your home and try out the planner to create a functional and space-saving office:
under the stairs
a disused corner
the guest bedroom
an alcove next to a fireplace
You'll be amazed at some of the spaces people work in and clever design is the key to the small home office.
Small home office design means clever planning Maximize the use of every inch of space with shelving, bulletin boards, and storage. Keep a small space tidy and clutter-free and ensure the area is well lit. A light fixture above your desk will ensure you can see what you're doing at all times of the day and night.
If you're having trouble getting started, you can find ideas for your next home decor in our Inspiration page.
You are an interior design professional and looking for a 3D tool to fulfill your customers? Visit our
HomeByMe Pro page
will meet all your needs!
Create your own home office design
Get all the tips you need to make your perfect home office in your HomeByMe project.
Create your perfect Interior decor in 3D

Try it in your virtual home

Be sure your furniture is perfect before getting things real
Get started!
Start for free today and create your own Home office in no time! Then share the HD images of your project with friends, family or professionals.