What is farmhouse bathroom decor?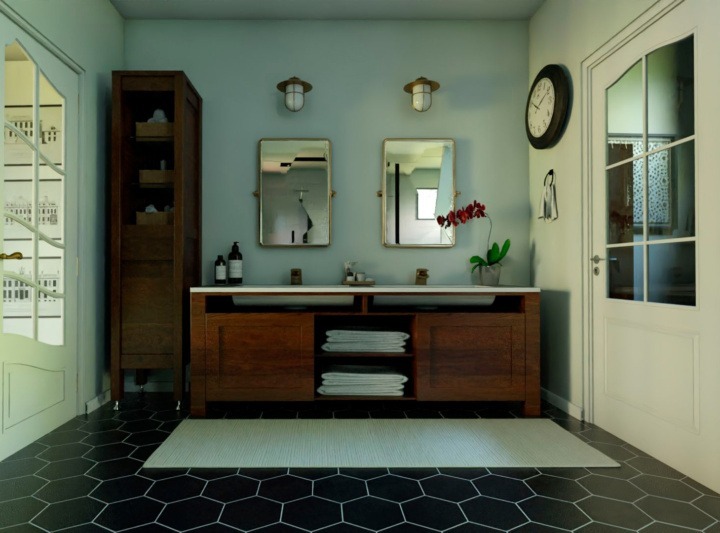 A farmhouse bathroom feels comfortable, warm, and inviting. Of course, it should be functional too. Farmhouse bathroom decor has a quaint yet contemporary aesthetic that strikes a balance between the traditional rustic look and practical modern living.
Farmhouse bathroom decor ideas to give your bathroom new life
Let these farmhouse bathroom decor ideas inspire your own design!
Sometimes a single theme or item is enough to marry modern farmhouse bathroom decor. A wooden stool or chair, a rattan linen basket, a sliding reclaimed wood barn door, or an oak-framed mirror can make more of an impact than a clutter of mixed accessories.
Upcycling is all the rage and a great idea to reform your bathroom is to paint a dreary wood vanity, cabinets or shelves with chalk paint. The distressed look will enliven the bathroom furniture and lighten the room. It complements the vintage rustic bathroom style perfectly. Do the same with mirror frames, to add a touch of authentic charm.
Wooden flooring integrates well with this style, and reclaimed wooden flooring delivers a modern and relaxed environment. It adds warm tones and gives the room depth. Reclaimed wood wall cladding is another farmhouse bathroom decor idea – select a shade lighter than the floor for contrast.
Use natural fabrics and different materials such as metal towel hooks and clay plant pots to add texture and reflect the authenticity of a vintage rustic bathroom. 
For rustic storage turn several fruit crates on their side and build shelves to house toilet rolls, towels, and toiletries. 
How to use modern farmhouse bathroom decor to brighten your bathroom?
Reflective and shiny materials make the most of natural light in modern farmhouse bathroom decor. 
Subway tiles infuse the modern look with traditional farmhouse touches. This clean, bright tiling style gives a retro feel that sits comfortably alongside natural wood, wicker baskets, and a plant or two.
Marble countertops in white give a sophisticated edge. Fuse this cool, sleek look with salvaged wood cabinets to tie the room together.
Shiny plumbing in the form of brass, copper, or metal faucets and shower heads coupled with metal fittings for the vanity adds a note of luxury.
Industrial style lighting puts a spin on farmhouse bathroom wall decor to fuse modern with traditional. Wall lights, pendants or sconces all contribute to the modern farmhouse vibe.
Don't forget farmhouse bath decor
If you're undertaking a total bathroom remodel to create your dream bathroom then a claw-foot bathtub has to be in your farmhouse bath decor plans. What better way to relax and soak away the worries of the day?
Add to the bath time ambiance with vintage farmhouse bathroom accessories – wire or rattan baskets, brass faucets, candles, a reclaimed wood towel ladder, and soap dishes.
A solid wooden bath tidy across the bath is the ideal place to display soaps and candles.  And when you want to get away from it all and have a relaxing soak, it's ideal to support your book (not your phone – we're recreating days gone by!). Alternatively, you can make your own bath 'shelf' with a simple plank of wood (reclaimed of course).
Create a statement with farmhouse wall decor
An inspiring gallery of pictures or photographs add the final piece to the farmhouse wall decor puzzle.
Use vintage art or prints depicting nature and outdoor scenes to bring the bathroom to life. Use your favorite scenes from distant travels, family celebrations or special events to bring back memories.
To introduce depth, hang frames with no prints inside – this eye-catching trend is all the rage at the moment.
Creating the modern farmhouse bathroom decor is all about adding touches of the 'country' look to a modern base. It celebrates the combination of sleek and chic with authenticity.
If your bathroom needs updating but you're not sure where to start why not try the 3D planner to experiment? You can update your bathroom without moving from the couch!  
---