7 Best Home Office Ideas to Improve Your Productivity
Creating a temporary home office was a necessity – and a challenge – for many of us during the pandemic. But now, as remote work becomes the new norm – and even a preference for many working professionals – using non-ergonomic setups like a dark corner of the bedroom or even the couch, are neither practical nor sustainable any longer.
Taking time to thoughtfully design and curate a dedicated space is a crucial investment, not only for yourself, but for your work or business. If you need space-saving solutions to carve out a comfortable nook in your home, we dive into some of the best home office ideas to improve your productivity while showing you how to make it a functional and stylish part of your home.
The Best Home Office Layout: Minimal and Clutter-free
Creating a productive home office setup isn't just about making it practical. It should be designed to inspire your creative ideas and help you stay focused too. That's why having a minimal, clutter-free space is a priority. The more stuff that surrounds you, the easier it is for your mind to become distracted. So, first consider the essentials of what you need when you sit down at your desk and get to work. Typically, this includes a laptop, monitor, keyboard, and maybe one or two more items.
For modern homes today, one of the most widely used designs to maximize space and minimize clutter is the vertical home office with a designated "work zone" wall that combines open, built-in shelving and a desk. This keeps the work area seamless, and it lets you add some personality to your interior in a stylish way. However, if you're not one for maintaining styled and tidy shelving units, closed or semi-contained shelving might be better suited. Either way, this is an ideal remodeling strategy for building a sophisticated at-home work hub, even in tighter spaces.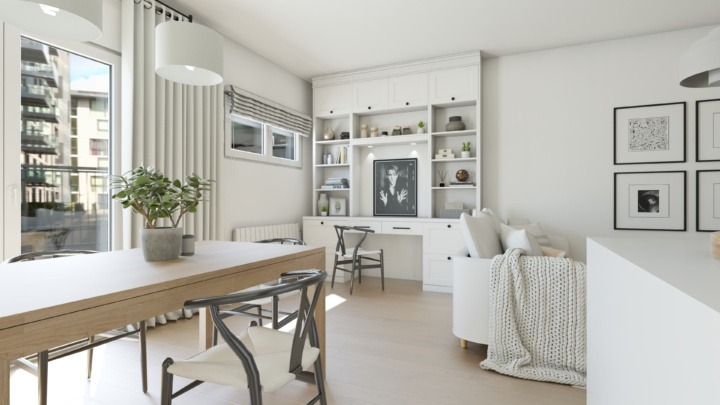 The Best Home Office Vibe: Bright and Airy
Being exposed to natural light during work hours has been proven to have numerous benefits on productivity levels and our overall health and wellness. So it almost goes without saying that if you have an available window, center your home office around this feature. But for those who aren't as lucky to have an abundance of sunny spots at home, there are still some tactical ways to infuse a bright and airy vibe into your work hub. Using a light, neutral palette will help to reflect and disperse any natural or artificial light in your home, amplifying the overall brightness.
Conversely, if you prefer to add something dynamic and unique to your office wall space, a vertical light wood slat design is an excellent alternative for channeling those uplifting, airy vibes that are akin to the Scandinavian style. Aside from brightening your space, it will add visual texture to your home and a calming element that's easy on the eyes when you need a break from staring at your computer screen.
The Best Home Office Desk: Slim and Simple
From murphy-style desks that fold out from the wall to glass or "floating" desks that exude a sleek but barely-there quality – there are many space-saving solutions that can suit your home office needs. However, when it comes to choosing the best home office desk, a slim and simple design tends to work unanimously, no matter the layout. This incorporates a timeless style with convenience and comfort, which are necessary since you'll be spending quite a bit of time here.
If you're working with an open floorplan, why not create a practical workstation that couples as a bold showpiece? For a striking touch of contrast, use a neutral-colored desk set against a modern, all-black accenting wall unit with recessed lighting placed on a few shelves. This will create highlights that will capture the eye.
The Best Home Office Chair: Comfortable and Ergonomic
When you're sitting for hours each day in a chair that doesn't provide the back support you need, you'll be focused more on your mounting pain than your work. If the majority of your time is spent sitting down, it's imperative to invest in a comfortable, quality chair that will be kind to your body. And while an ergonomic design is essential for good posture and lumbar support, don't forget to consider the style of the chair as well. Remember, this will be a noticeable feature in your home office setup and, depending on your layout, could be on full display in your home.
To make it work for your body and jive with your interior, choose a chair that's consistent with your lifestyle and aesthetic. For a contemporary style, opt for a clean-cut silhouette. For something more traditional or vintage, a high-back leather chair can be an ideal fit.
For a more chilled-out, causal style, an upholstered frame can add just enough warmth while still looking refined and professional.
Simple Home Office Ideas That Make a Difference
Even with a stripped down and minimal layout, there are a few simple home office ideas that can make a world of difference to your creativity, efficiency, and even your wellbeing. Here are a few top must-haves to include:
A Softly Lit Lamp to Boost Your Mood
Having the right lighting can significantly improve your mood and output. Using a desk lamp with soft lighting will enhance those warm and cozy vibes that contribute to a happier work environment, while reducing stress and eye strain. Adding wall sconces or other ambient lighting to your office wall or shelving unit can elevate it and make your home feel more inviting.
Artwork to Inspire and Finalize
Whether it's a black and white frame of a famous role model, a landscape painting that soothes your senses when they're starting to peak or your favorite quote – hanging an inspiring piece of art above your desk can work wonders for giving you that motivational push whenever you need it. And it's another strategic finishing touch that will heighten the visual interest of your work-from-home setup.
Greenery to Uplift and Refresh
Plants are much more than merely decorative elements. They're therapeutic, refreshing, and can help uplift any stark looking spaces. To inject some life and color into your home office, place greenery on your desktop or shelves. For attractive and hard-to-kill options, go for the snake plant, golden pothos, or the rubber plant.
No matter what type of space you're remodeling, you can integrate any of these best home office ideas to improve your productivity and establish the fundamental hallmarks for a happy, healthy work environment. And if you're still feeling unsure about it, take advantage of modern technology to create a home office layout for free before you even touch a thing. The HomeByMe app lets you map out your area, drag and drop features into place, and customize everything in 2D or 3D to curate a work-from-home design that suits all your needs and more.
---