Design 4 Bedroom House Plans in No Time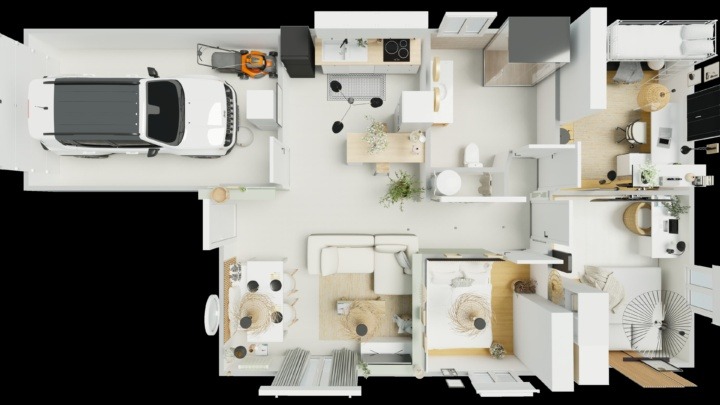 Create your perfect home designs in 3D

Try it in your virtual home

Be sure your furniture is perfect before getting things real
Have you heard about free home planners that let you create a detailed replica of your property? Discover pro tips to develop practical layouts for your home and how you can customize the design using these innovative apps.
A 4 bedroom house is an ideal fit for both large and smaller families who want greater comfort and flexibility. The extra space lets each of the kids to have their own room. Alternatively, it allows you to construct a home office, guest suite or something else you may want. Either way, you have the option to create a haven that is practical and enjoyable for you and your family. If you've just purchased your new home or are on the hunt for ideas to draft the best layout, you can use free 3D home planners to draw a comprehensive design for your home. Whether you're planning a superficial remodel or a major renovation to customize the property, learn how to prepare your 4 bedroom house plans using the latest, innovative tech that's available online for free.
How to Make Your 4 Bedroom 2 Story House Plans in 3D
Imagination combined with a detailed 3D floor plan are the best tools for deciphering your needs and constructing a design in no time. Whether you're planning to have more children or want to use the additional space for another purpose, here's how you can illustrate a digital floor plan for your 4 bedroom 2 story house plans using online home design planners.
Design your own 4 Bedroom House Plans
1
Create the Profile of Your 4 Bedroom House

With digital floor planners, you can create a top-down, bird's eye profile of your property in a matter of minutes. To do this, take measurements of your house or a specific section that you want to design.
Using the available tools, you can add and attach each of the walls, windows, and doorways as they appear in your home.
As you do this, change the measurements so they coincide with your house. You can also include additional features in your outline, like partitions and appliances that are more or less situated where they are.
2
Design the Layout of Your 4 Bedroom House
With the 2D bird's-eye profile complete, you can turn the outline into a 3D format which will present a more realistic rendering of your property. Use the catalog in the house planner to find the materials and furniture that you want to use to begin forming your design.
For example, if you're planning to construct a home office in the spare room, add and test out different desks, chairs, rugs, and other items to assemble your ideal workspace.
There are countless options for you to customize every corner of your home. Filter your search to find specific styles or move features around to see which layout you prefer.  
3
Inspect Your Design with a 4K Tour
To inspect and scrutinize your floor plan in-depth, take a 4K tour with a simple click. With this viewpoint, you can view your design as if you are standing inside your home. This reduces uncertainty and can help you confidently decide on what to do before moving forward with your plans.
If you're pleased with what you've created, save and print images as your source of reference when recreating it in your home or share a link directly with your contractors.
Tips for A Frame House Plans 4 Bedroom Layout
With their simple and unique shape, A frame houses are a favorite for many. Even though the triangular, load-bearing frame can be seen as a limitation, it can offer a comfortable and luxurious place for year-round living or leisurely getaways. If you've just bought a plot or are in the midst of designing your A frame house plans 4 bedroom layout, this type of structure will typically require a second story and a wider frame to accommodate. When drafting your design, keep in mind that the main entranceway should ideally lead into an open-concept living room and kitchen area. Beyond that, the back portion of the A frame is typically reserved for a bathroom and one or two bedrooms. On the second floor, a second bathroom can be integrated if your space permits, along with two more bedrooms on opposite ends of the structure. This is a good, general layout to follow that can provide the right amount of space, privacy, and comfort when you have friends or family visiting.
Tips for 4 Bedroom House Plans Single Story
When designing 4 bedroom house plans single story, these can offer a range of benefits. They are generally less costly to build, easier to maintain, and more suitable to age in. Since everything is located on one floor, it is crucial to carefully consider the purpose and placement of each room. If you have young children, it might make sense to create a floor plan that places the master bedroom close to the kids. Alternatively, for families with older children or infrequent guests, separating the bedrooms by placing them at both ends of the property could be more applicable for your lifestyle. Thankfully, with the help of a 3D digital home planner, you can alter your setup countless times to gain a clear understanding of how to situate your home precisely to serve you and your family best.
Start the journey of creating your dream with HomeByMe's 3D design planner. By customizing your home in digital form first, you can determine how to create an inspiring design that you and your family will love and appreciate.
Draw the Best 4 Bedroom House Plans!
Create your house plans and home designs easily with HomeByMe.
Create your perfect home designs in 3D

Try it in your virtual home

Be sure your furniture is perfect before getting things real
Draw your House Plans now!
Start for free today and create your design project in no time! Then share the HD images of your project with friends, family or professionals.