Kitchen March 16, 2020
How to choose the right material for your kitchen?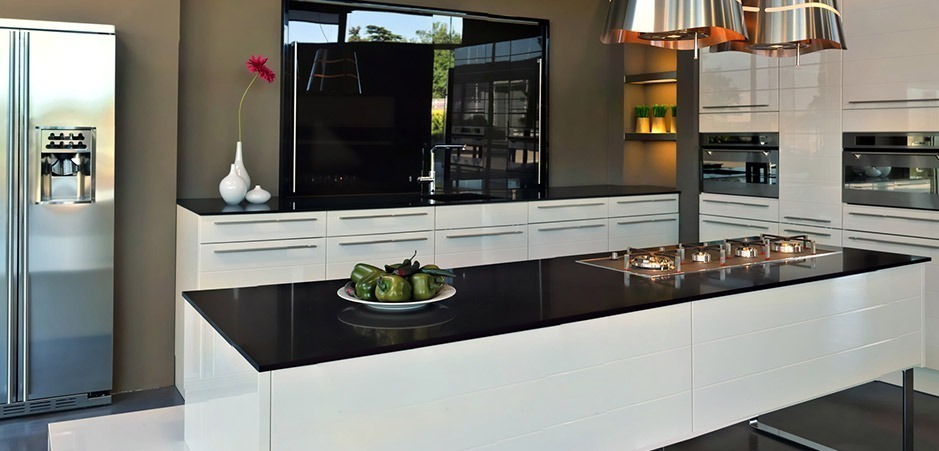 Kitchens have to endure the wear and tear of daily life and family meals. It's therefore necessary to choose the right material for it!
TIP 1
Laminate
The cost of laminate  is rather high, but this material offers a lot of decorating ideas. Laminate is available in different colors, patterns and textures, so you can create many combinations of fittings. To a certain extent, it's resistant to thermal shock, so don't take any dishes coming out of the oven without protection. Moreover, pay attention to the sharp edge of the knives and always use a cutting board.
TIP 2
Stainless steel
Stainless steel is ideal countertop material. It fits very well with white color. You can use stainless steel for a long time. It is resistant to heat and staining, but it deforms and scratches easily. Always use a cutting board to protect it.
TIP 3
Corian
This is a soft and chic countertop material made of synthetic resin. Corian is highly resistant and allows you to choose different colors for long countertops, some of which can resemble natural stones.
TIP 4
Concrete
Concrete is very trendy. The creation of concrete countertops, which can be either plain or colored must be carried out by a professional. The professioal can work with the varnish in order to ensure that it doesn't absorb stains. The finishes can be either matt or satin.
TIP 5
Wood
The appearance of solid wood changes over time. Light shades become darker and, on the contrary, dark wood become clearer. Don't forget that the wood also becomes more fragile over the years, so be careful with cracks. It's better not to leave food residues on the wood and to maintain the countertop regularly with linseed oil.
TIP 6
Ceramic
Known in its simple form, stoneware is now often used for countertops. Ceramic exists in very large slabs, and manufacturing processes can reproduce almost all the materials.
TIP 7
Quartz
Quartz became a popular trend for the kitchen given that it is available in hundreds of colors. Similar to glass, quartz allows you to make countertops between 10 and 12 mm.
TIP 8
Glass
Glass highlights the contemporary lines and is ideal for open kitchens. It reflects the light well and can change the appearance of space. Glass is the most original, bright and stylish option, and without doubt the most popular material for the kitchen. Its hygienic qualities and its natural appearance make glass very convenient. Its "slim" thickness and its availability in multiple colors are its other advantages. Glass is a very weak material that doesn't do a good job at supporting shocks, high temperatures (120° maximum) and scratches easily. You should avoid putting dishes and utensils directly on glass.
TIP 9
Granite
Granite usually comes from Zimbabwe. It is highly resistant to scratches and heat, but in its matt version, it can't bear the stains of fingers and fat.
TIP 10
Marble
Like all countertops made of natural stone, marble is water-resistant. It"s also resistant to scratches, stains and high temperatures, it is ideal for the kitchen. Colorful, veined, plain or speckled, marble can bring a personal touch to your decoration.
IN A NUTSHELL:
The choice of materials for your kitchen depends on your technical constraints and on your design ideas.

Opt for a 3D simulation to help you achieve your plans and estimate the quantity of materials required

Don't just follow trends, kitchens are designed to last for years.