What are some small budget modern living room ideas?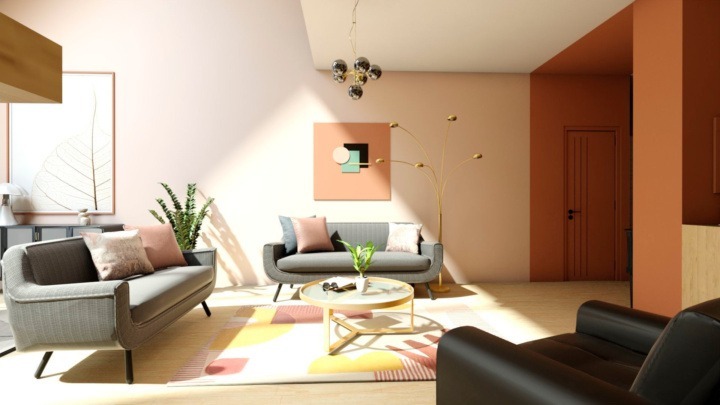 Rethink your living room and make the most of the space. The great news is these modern living room ideas won't cost you a fortune.
Rethink your living room and make the most of the space. The great news is these modern living room ideas won't cost you a fortune. 
A small living room can present a challenge. It's the place where we spend a lot of time – relaxing, entertaining, watching TV, reading, listening to music… But even if your living room is on the small side it can still be a beautiful, stylish room.
Discover how to refresh a modern living room without losing valuable living space. 
Modern living room design ideas
Just because your budget is limited doesn´t mean you have to compromise on your modern living room design ideas. There are plenty of ways to save money and create a beautiful modern living room.
a lick of paint will refresh the room in no time

use plants for natural décor

get rid of clutter for the sleek, modern feel

repurpose vintage furniture you find in flea markets or thrift stores

invest in new pillows and throws 

get the couch recovered instead of buying a new one
All it takes is a little imagination, some careful shopping and the help of a home planner and you've got a living room that feels like it had a designer makeover.
Modern small living room ideas that are big on style
The secret to making a small living room feel visually larger is to keep things simple. Get rid of any furniture or accessories you don´t like or need. Be ruthless, your living room should feel comfortable and inviting.
Pale and interesting is the secret modern small living room ideas. Choose white, neutrals, and pastel colors to make the space feel brighter. Add pops of color with pillows, pictures, accent chairs, and plants to give the room character. 
The position of the furniture can make all the difference in a small living room. Put the couch against a wall, not in the center of the room. Hang the TV on the wall to save space. Put the coffee table at the edge of the room. Hang a large, bold print to act as the focal point and draw the eye away from the lack of space.
The small modern living room has a place for everything. This reflects the clean feel of the modern style and keeps the clutter at bay. To utilize space, consider fitting bench seats with storage underneath – perfect to keep the kids' toys out of sight and to provide extra seating. And storage tables and poufs offer a great solution for keeping things tidy.
Modern living room decor ideas for chic living
Your living room is a place to experiment with those modern living room décor ideas you've seen in magazines.
You don't have to spend money on new living room furniture to transform a small space into a modern room that shouts style. Could you paint or repurpose existing furniture to give it a new lease of life? Scour thrift stores and garage sales for cheap items to transform into feature pieces. 
If you want to splash out on new furniture, a sectional couch is great for a small room as you can move it around. Nesting side tables save space and floating shelves are more effective than bookshelves.
Wall light fixtures create an inviting atmosphere and can be positioned to focus on dark corners. Combine with strategically placed table lamps to create a relaxing ambiance. Paper shades for pendants are affordable and reflect the simple, modern style.
Complete your modern living room decor ideas with mirrors to reflect light, plants to breathe life into the space, and a single vase or candle. A simple geometric rug will add interest without overdoing the pattern theme. To finish, pillows and throws are a low-cost way to brighten the room.
Follow our modern living room ideas to upscale your small living room. And if you want to see the final result before you make any changes, why not try using a 3D design app to help you make the most of your space?
Decorating with Good Bones: 10 Ways to Redesign Your Home on a Budget
Making a house feel like a home starts with décor. But with so many trends, styles, and finishes to choose from, finding a good starting point to outfit your space for less can be downright confusing. Luckily, there are ways to achieve that designer look for less, even on a shoestring budget. Whether you're moving into your new fixer-upper in Austin, TX, or simply want to personalize a rental home, these tips and tricks will be sure to amaze you.
Redfin reached out to us and other interior design experts for our best-kept secrets on how you can redesign your home to create a functional yet stylish space without breaking the bank. From a fresh coat of paint to using what you have on hand, keep reading to discover ten ways to give your home a makeover – you might be surprised by these simple solutions.
Click here to read it!
---