The hottest modern kitchen ideas for 2022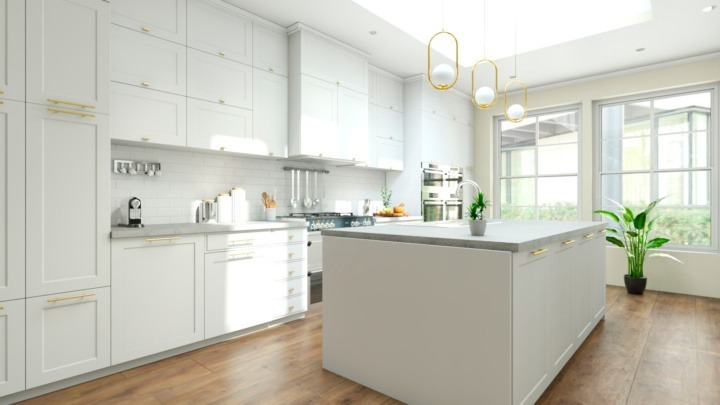 If remodeling your kitchen is top priority this year check out the latest modern kitchen ideas trending at the moment. Get inspired with this selection of the most gorgeous kitchen design styles and practice your home designer skills.
Modern kitchen decor for classic elegance
If you're ready to tackle your kitchen redesign then these inspirational ideas should help you decide which modern kitchen decor style is for you. 
Industrial style – The super chic industrial style is seriously in vogue for 2022. Exposed brickwork and pipes, dark metal finishes, marble and stone countertops, open shelves, and industrial-style light fixtures – this look is bold and striking. Add to this mix concrete floors, stainless steel appliances and backsplashes, and copper and brass handles and faucets for a true synopsis of the industrial vibe. 
Dark and sophisticated – Darker shades are the look of the moment in kitchens. Think navy blue, bottle green, black, deep gray, and even burgundy red. From the cabinetry to the walls and tiles, these rich colors make a statement in modern kitchen design. Quartz countertops and a touch of wood and white lighting give the final effect a feeling of contemporary elegance.
Pendant lighting – Use practical and ambient lighting to set the mood in the kitchen. Accent lights can focus on feature tile backsplashes, the dining area, and under shelves and cupboards. Pendants and chandeliers over a kitchen island create atmosphere and break up the straight lines of the kitchen. Layered lighting looks elegant on plinths and below cabinets and captures the essence of a modern, stylish kitchen.
Modern kitchen design for a clean look
Simplify your kitchen with a modern kitchen design that's functional as well as beautiful.
Streamlined – The streamlined look embraces the modern decor kitchen style. This look is ultra-sleek, and everything flows smoothly. Everything is concealed in the streamlined contemporary kitchen, including the appliances. 
Subway tiles – for a clean-look ultra-trendy kitchen subway tiles are the latest idea for modern kitchens. And for a unique look why not install subway tiles vertically or in a herringbone pattern?
Open plan –With modern living meaning we spend more time at home the open plan kitchen is one of the hottest trends around. An island is perfect to define the space between the kitchen and living room and is useful as a workstation, homework area or simply a place to prepare dinner. The innovative design of a modern open plan kitchen should flow seamlessly into the living space, to create an area that encourages conversation and interaction. 
Contrasts –Mixing materials in the kitchen is another trend that delivers interest. Marble, wood, metal, natural stone and glass can all blend to produce a kitchen that screams individuality. The trick is to choose materials that make sense of each other, and that complement and enhance to create a defined style. Using different shades and tones can soften the look and transform the space, making the kitchen a pleasant room to spend time in.
Two-tone – a quick way to refresh your kitchen and create a trendy feel is to paint the cabinets in two different colors. The two-tone look gives a contrast between upper and base cabinets – try bright white on the top and a deeper color below for an eye-catching appearance. 
What are the best modern small kitchen ideas?
If your kitchen is compact there are still plenty of small kitchen ideas to create a beautiful and practical space.
Think outside the box when designing a small kitchen. The minimal look creates a functional and enlarged space with crisp white cupboards, plain tile backsplashes and minimum appliances on display on the countertops. 
Above the kitchen cabinets is a valuable space not only for storage, but to create an eye-catching display. This is a great place to showcase artwork, signs, vases, collections, plants, vintage cookware, bottles… anything to add aesthetic interest to your kitchen.
Even the modern small kitchen can benefit from an island – portable islands are a great storage and space-saving idea. 
Make the most of natural lighting to make a small kitchen seem bigger. Keep windows uncovered to allow light to reflect off white walls and shiny surfaces.
A modern kitchen is all about the sleek understated look. Use your design skills to create a kitchen that'll be the envy of all your friends!
---