How to Design a Restaurant Interior with the Help of 3D?
Create the perfect Restaurant design

Visit it virtually and show it in 4K

Be sure everything is on fleek before launching works
3D floor planners take the stress out of interior design. Discover how effortless it can be to create a professional restaurant interior design using this simple yet powerful software.
Designing a restaurant can be a complex process. Many decisions need to be made to create the right ambiance for the target audience, and to ensure the overall design is welcoming and conducive to a superb dining experience.
Using a 3D floor planner can help to create an accurate and detailed restaurant design that meets the needs and vision you want to achieve for a client or your own culinary business. By creating a digital model of the space, you can visualize numerous layouts, furniture arrangements, and decor options to attract customers.
Determining a clear vision with realistic products and materials can also help to save time and money since details can be ironed out before any construction or remodeling work begins. Learn how to construct a restaurant interior design below with the help of this smart 3D software.
A Step-by-Step Guide to Design the Interior of a Restaurant in 3D
To design the interior of a restaurant in a three-dimensional environment, we show key steps for:
How to create a floor plan from scratch
How to edit the dimensions of the space
How to add furniture, fixtures, and decor
How to share, collaborate, and explore the design
Make a 3D Interior Design Restaurant in 8 Easy Steps
Here's how to start planning a 3D interior design restaurant in minutes:
1. Start a New Project & Define the Layout
After opening the 3D floor planner, click "Start a new project" to begin developing the restaurant plans.
Use the "Add Room" feature to define the layout of the restaurant or use the toolbar to add walls, doors, windows, and other elements piece by piece.
Enter the dimensions of the entire space, including the length, width, and height of the room, as well as other architectural features.
2. Create a Floor Plan
With the dimensions and basic layout defined, begin to create a floor plan with other essential elements like the kitchen, bar area, restrooms, and dining areas.
Move walls and other components around to find the best design for each key area within the restaurant.
Label each section and room and place icons to indicate where certain features like tables and chairs will be placed.
3. Furnish it in 3D
Next, use the "Furniture" feature to add tables, chairs, bar stools, booths, and other furnishings for the restaurant design.
Choose from a variety of styles and products found in the online catalog or create your own custom features and upload them into the planner to arrange within the layout.
4. Test Different Sizes and Scenarios
Test out different scenarios by changing the layout or swapping out different styles and sizes of furniture. For example, play around with different table configurations and seating options.
Any piece of furniture can be moved around with a simple click to try out new concepts and ideas to see what works best for the space. This will allow you to see how different setups will look before making any real, physical changes.
5. Add and Customize Decorative Elements
With the outline done, begin adding in the details and decorative elements for the restaurant by using the "Decor" feature in the planner.
Explore lighting fixtures, artwork, and more. Customize different colors and textures to see how they will appear.
Create a cohesive and inviting atmosphere by adding plants and other accessories to enhance the ambiance of the restaurant and create the appropriate vibe you wish to achieve.
6. Get Inspired by the Autofurnish Feature
Find ideas and inspiration for your interior restaurant design with the help of the intuitive Autofurnish feature. This produces examples of a fully furnished interior based on what you've liked. This feature is only available in the HomeByMe mobile app.
7. Customize the Lighting and Background
Show clients the kind of atmosphere they can expect within their future restaurant design using customized light settings. Use the "Studio Photo" tab to alter the light intensity or choose whether to warm up or cool down the light settings.
Select different backgrounds to tailor the scene based on the location of the restaurant.
8. Collaborate with Others
Share the design by sending a link for business partners or contractors to view the 3D rendering in detail with a fully immersive experience.
Or print and save HD images to keep on file. This makes it easy to work together and ensure that everyone is on the same page.
3 Layout Ideas to Consider as a Restaurant Interior Designer
As a restaurant interior designer, creating a well-planned layout can make all the difference between running a successful establishment that entices crowds, or a chaotic space that is off-putting. Consider these example layouts below that focus on 3 key areas within the floor plan.
The Kitchen Layout
Every great restaurant depends on having an organized and well-equipped kitchen to deliver high-quality food. When planning the kitchen, ensure that each set task – cooking, food prep, and dishwashing – has a dedicated area to minimize congestion.
Having a separate entrance for deliveries should also be included when possible, to allow staff to restock without getting in the way of food prep.
The Entranceway Layout
An aesthetically pleasing restaurant entry can set the tone and create a lasting first impression. To ensure that impression is favorable, it's important to separate seated guests from those that just arrived and are waiting.
This creates privacy for those who are dining and adds a touch of anticipation and exclusivity for those waiting to be seated.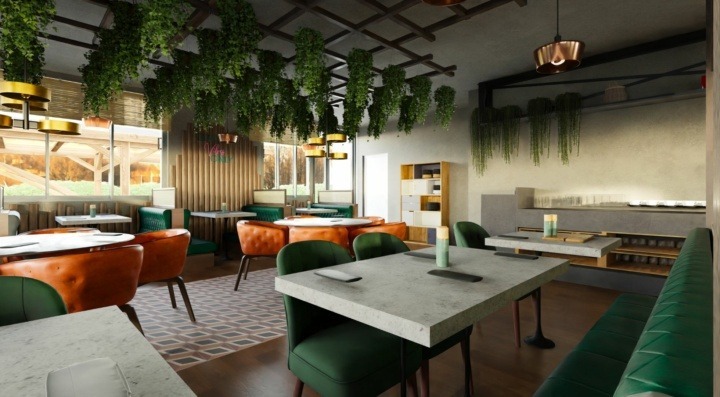 The Dining Room Layout
It goes without saying that the dining area can make or break the entire experience for guests. To create a relaxing and enjoyable occasion, consider grouping the entranceway and bar area together to isolate the dining room.
Having separate dining nooks throughout the floor plan is also an excellent way to keep it secluded from the busier areas in the restaurant.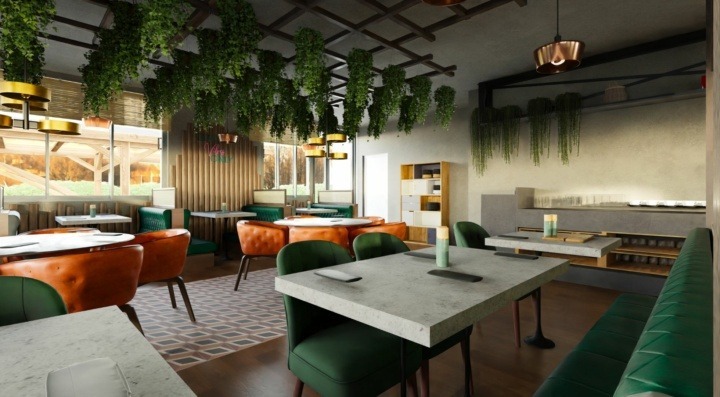 Using a 3D floor planner like HomeByMe can help you to create an accurate and detailed restaurant interior design that meets your needs and vision. By experimenting with different layouts and furniture arrangements, you can optimize the use of the space and create a functional and inviting dining environment that's primed for success. Get started today for free!
Design a Restaurant
Create the perfect Restaurant design

Visit it virtually and show it in 4K

Be sure everything is on fleek before launching works
Make flawless Design plans
Start for free today and create any design project in no time! Then share your ideas with 4K images to clients and friends.