How to Use a 3D Floor Planner to Make Cabin Plans?
Create your perfect home designs in 3D

Try it in a virtual home

Be sure the furniture is perfect before getting things real
As recreational homes, cabins are where you can indulge in creative and unique designs inspired by nature. Find the right look for you or your clients with the support of powerful 3D floor planners.
Designed for downtime and weekend getaways, cabins are where many of us flock to when it's time to disconnect. Based on leisure and relaxation, these inherently cozy dwellings are meant to be simple, rustic, and comfortable which means a no-fuss approach to designing.
Whether located in the woods, mountains, or lakeside, illustrate customized cabin plans for any setting using 3D imagery and easy drag-and-drop tech. Choose from countless products, materials, and accessories to construct the idyllic, dream cabin getaway for vacation or year-round living.
Discover comprehensive layouts below and how to use 3D floor planners to achieve your creative vision.
How to Design Cabin Home Plans with a 3D Interior Design Planner?
A 3D interior design planner lets you bring your unique vision and ideas to life with realistic, virtual mock-ups to understand the best strategies for maximizing indoor and outdoor living spaces. It's the superior way to develop professional, high-quality designs when presenting them to clients or contractors. Here's how to begin drafting cabin home plans.
Design your own Cabin Home Plans in 3 steps
1
Draw the Structure in 2D

To begin, draw the structure of the cabin. This is a simple process that can be done by taking measurements and then manually drawing the components of the cabin – walls, doorways, and windows – while setting the correct dimensions.
Another option is to use a blueprint by uploading it into the planner to work from directly. Templates can also be used for this process.
Ensure that the final 2D blueprint represents the total structure of the cabin with exact measurements and dimensions.
2
Visualize and Design a 3D Floor Plan
Get a better scope of the height and structure of the cabin by viewing it in 3D. From here, begin forming a detailed design.
Find all the features you need in the planner's extensive catalog. It contains a diverse range of products and materials to produce a 3D cabin design.
Whether it's the walls, furniture, windows, or decor, once you've found and added items to the rendering, you can easily redesign, edit, and move them around – all it takes is a simple click. Ensure that every detail is just right – including the placement of furniture and décor – before any construction begins
3
Capture High-Res Prints and Get an Interactive Tour of the Cabin
Using a comprehensive 3D planner makes communication a breeze between clients and contractors.
You can share a link to the project for them to view directly, including a 4K interactive tour where they can move throughout the floor plan to gain a complete perspective.
It can be saved and printed with high-res images to recall the exact placement of every feature. It's that easy.
A Frame Cabin Plans: How to Design the Perfect Getaway
Known for their steep angles and rustic vibes, A frames are popular designs used predominantly in natural environments. There's also a distinct beauty in their simplicity. Need ideas on how to arrange A frame cabin plans to maximize the space? Follow these tips below.
Reserve the Front Wall for Windows
Due to the steep, angular design, A frames can be limited to natural light, making them appear dark inside. All the more reason to maximize what is available by reserving the front-facing wall for windows. If you have the budget, opt for full floor-to-ceiling windows to enjoy the view.
Keep It Rustic and Modern with Neutral Colors
Light neutrals combined with hints of natural wood, will make the cabin appear fresh, bright, and cozy. Using white or a soft neutral base will also help to highlight various wooden features and detailing that would otherwise be overshadowed by darker hues.
Choose Length Over Width
Since A frames emphasize length over width, layouts and furnishings should follow suit. Choose items that are long but not too wide. Consider a long, slender sofa, rectangular kitchen table, or a quaint breakfast bar to use space efficiently. In smaller A frames, place the sofa parallel to the shortest wall to make the living area feel wider.
Use Modular Furnishings for Extra Storage
Choose modular furniture that can serve more than one purpose – like seating and storage. It's a practical and aesthetically pleasing way to keep the layout efficient and clutter-free.
Add Custom Storage
Having adequate storage is a common issue with A frames. To utilize the space between those angular areas when the floor meets the ceiling, add custom storage shelves and cubbies. Creating a customizable storage solution is the best way to avoid empty, unused space.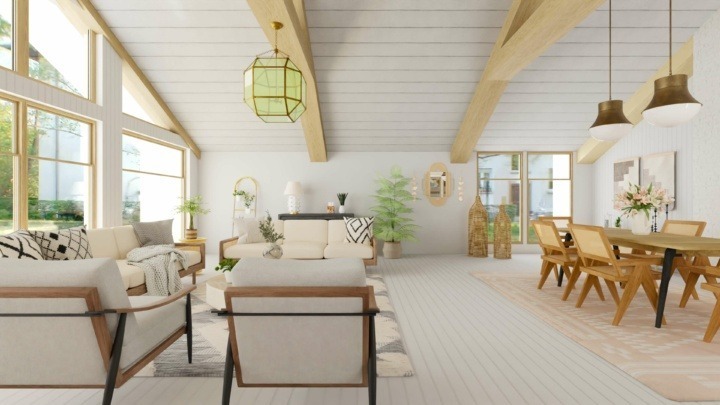 Cabin Floor Plans: Ideas to Inspire You
Below, we've gathered a few of our favorite examples of cabin floor plans to help get your creative ideas flowing.
Small Cabin Plans with Loft
This cabin plan boasts a cozy but spacious loft-style design with one bedroom. Entering the main doorway, you're led into the living area which comprises the entire front section of the cabin. Against the left side is a galley-style kitchen.
In the middle, a staircase ladder leads up to an open loft area, perfect for games night or curling up with a book. Meanwhile, the bedroom and bathroom are placed at the back of the cabin in opposite corners for privacy and convenience.
Lodge-Style Cabin with 4 Bedrooms
For those who love the classic lodge-style cabin design and have more than 2000 square feet to build on, it's possible to comfortably house the entire family, with 4 beds and 4 baths.
Entering directly through the L-shaped kitchen, a sizeable breakfast bar is positioned in the center, overlooking the dining and living rooms with an exquisite view outside. The bedrooms are placed in each corner of the cabin, with two bathrooms on each side located between the rooms. A large front porch and sundeck provide ample outdoor space to relax and enjoy the solitude.
Modern 2 Bedroom Cabin Plans
For a uniquely-styled, two bedroom, modern cabin floor plan, keep the structure concise, using clean lines throughout. Like most modern designs, the exterior should feature a flat or asymmetrical roof.
A mixture of modern wood paneling and natural stone along the exterior can create a well-blended look. Located in the front right corner is the entrance. Through the foyer doors, a bathroom is placed directly across the hallway. A semi-open kitchen is on the adjacent side of the bathroom wall, with a small, casual dining area included.
Across from the kitchen is a spacious living room hub. The first bedroom is set in the front left corner, with a small laundry room tucked under the staircase. Upstairs is entirely dedicated to the master suite and bath, with direct access to a large terrace. This example layout is a tasteful way to merge rustic and modern styles on a 1000-square-foot lot.
From the classic lodge-style to a refined take on rustic, design custom cabin plans for any style with HomeByMe's 3D floor planner. With so many features to use and powerful 3D imagery available, you can draft meticulous designs and put your best foot forward. Try it for free today!
Make the Best Cabin Plans!
Create your plans and home designs easily with HomeByMe.
Create your perfect home designs in 3D

Try it in a virtual home

Be sure the furniture is perfect before getting things real
Draw your Cabin Plans now!
Start for free today and create your design project in no time! Then share the HD images of your project with friends, family or professionals.