The Top Interior Design Trends in Materials and Colors 2022
From soothing shades of green to soft and organic materials to '70s inspired schemes – the top design trends set to dominate 2022 revolve around our heightened desire for comfort and coziness. Here's a peek at what to expect in the interior design world this year.
The new year is always a time when we reflect on the past and set our eyes toward new horizons with a rejuvenated mindset. Since many aspects of our lives have been so uncertain over the past two years, the way we view and use our homes has evolved dramatically. Now more than ever, it has served as our central haven of comfort, entertainment, work-life balance and creativity. We're also unduly aware of how our energy and mood can be affected by the aesthetics of our interiors, which is why homeowners are craving designs that promote feelings of calm, familiarity and wellbeing. Consequently, we're expecting interior design trends in materials and colors for this year to lean heavily into rich and cozy color palettes like burgundy, earthy greens and creamy neutrals. Dynamic textures are also set to dominate this year as people gravitate toward soft and tactile materials to add visual interest, warmth and sophistication to their homes. So as we move into this new chapter, let us embrace a fresh outlook with these top trends that can help inspire and nourish the soul.
Rich, Earthy and Restorative Color Palettes
Botanical Shades of Greens
Since nature has been a primary source of connection, reprieve and comfort lately, homeowners are seeking to add influences of the outdoors inside by integrating green throughout their interiors. Thus, multiple shades of green take the top spot of trending color palettes for this year. Our affinity for earthy, botanical greens is favored due to their innately grounding and soothing properties. Shades of green are quite versatile too, making it easy to use as a base or blend with a range of other tones.
Gentle sage is naturally calming and harmonious. Emerald green is restorative and energetic. Basil is zingy and refreshing. Breezeway is cool and relaxing. Aesthetically pleasing shades such as these not only provide us with a sense of wellbeing and connection, but they can make our homes look beautiful.
Rich Burgundy
Named after the sumptuous red wines from Burgundy, France, this color is innately bold, rich and sensual. With its deep red undertones that exude elegance and warmth, this color was adored during both the Medieval and Renaissance periods, and it reappeared again during the '70s. Today, we're seeing a massive resurgence of this decadent and alluring color.
Whether it's bruised burgundy, blackberry burgundy or Vulcan burgundy – the depth found in these rich tones can work beautifully in the bedroom, living room, dining room or even in the powder room. Being as intense as it is, it's ideal to integrate through pieces of furniture, accessories or wall decor. Choose a burgundy sofa or two side chairs paired with maple, oak or dark walnut. Various tones of gray, beige and greens can also look striking with this color while helping to soften out the intensity. For a fresh and spunky modern touch, consider combining burgundy throws, pillows or abstract art with pastel pink.
Warm, Creamy Alabaster
Cool, fresh and contemporary neutrals have been the go-to choice used for years. But as times change, so do our preferences, and this year we're seeing a shift towards warmer neutrals like Alabaster. Alabaster is a soft creamy tone that's considered white but without the starkness. It has more of an ivory undertone to it with a relatively high Light Reflective Value, meaning it will brighten any interior and make it look larger. Alabaster is also a mineral that was commonly used for carving statues which is why it feels distinctively familiar.
Throughout the year, we'll be seeing this kind of creamy tone, along with beige and nudes emerge as the neutrals of choice. Apply it directly as the base or select upholstery and furniture to incorporate it. To establish a more uplifting and jovial vibe, mix it with tan, breezy blue or soft pink tones.
Soft, Tactile and Textured Materials
Retro Pleats
As an iconic fashion style, pleats have been a trendy and expressive material embellishment used for centuries. This accordion-like detailing originated in ancient Egypt and resurfaced in the '50s, and once again during the retro '70s. Most renowned for the subtle beauty that's revealed through the movement of its folded texture, this intriguing style fabric is undergoing a modern facelift. We're seeing pleats merge with interior design through linen upholstery, lampshades, and even footstools. Pleated drapes and other forms of window treatments are also very prevalent today. Just a few simple touches are all that's needed to infuse depth, movement and fluidity to materials that would otherwise appear quite static.
Burl Wood
Distinguished by intriguing imperfections and a one-of-a-kind appearance, this type of wood is sourced from odd outgrowths that occur in many different types of trees. So no two pieces will ever look the same. The markings and twists marbled throughout the wood make it appear innately abstract, carrying a rich and rustic vibe that's perfectly suited for any modern home. As a rare and beautiful segment of wood, it deserves to be shown off. Choose burl wood for the coffee table or a side table in the living room. Add an eye-catching credenza or a burl wood chest. Even a simple tray or picture frames are excellent ways to bring in those striking tones. The rustic nature of this wood can blend beautifully with modern elements to add the right amount of warmth.
Organic Materials
There is a lot of ingenuity emerging with natural fibers and organic materials that are encouraging us to adopt more eco-friendly designs. Aside from being better for the planet, natural features can infuse warmth and texture, making any space feel Zen-like and peaceful. To achieve a more eco-conscious design scheme, focus on swapping synthetic furniture and flooring for natural FSC-certified wood. Choose items that are locally sourced to reduce their carbon footprint. Or look for sustainable materials like rattan, wicker, and jute which are equally durable and beautiful. The desire for organic materials and natural elements will only continue to rise, so getting in on this trend now will be a great benefit for designers and homeowners alike.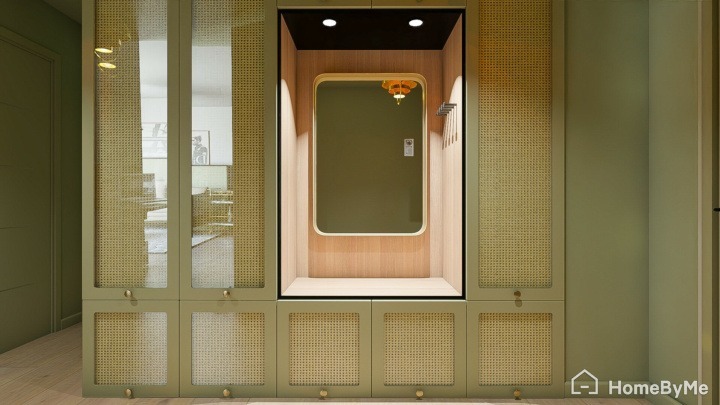 Tips to Incorporate These 2022 Interior Design Trends into Your Scheme:
Embrace Biophilic Design
Biophilic design is all about connecting people and our built environments with nature. This can be achieved by using nature-inspired colors and organic materials that replicate those deeply tranquil effects we seek from the outdoors. Introduce rich and earthy greens by stretching beyond the basic potted plants. Instead, go all out by using green as the base throughout the interior or create a feature, plant-covered green wall for a dramatic and invigorating show piece. For those who aren't ready to dive right in, look for accenting chairs in velvety forest green or introduce it through gorgeous detailing like spider green marble. Exposed wood grains, furniture with live edges, and woven materials can add plenty of depth to a room while inviting those feel-good characteristics of nature into the home.
Mixing Modern with Retro Vintage
A '70s retro style, California-inspired scheme can spruce up any space with carefree confidence and personality. Use curvaceous furniture in burgundy or moss green alongside a creamy palette. Incorporate a few vintage items like brass light sconces or pleated lamps. Choose mismatched wood dressers in the bedroom and splurge on a Persian-style rug or faux cowhide for visual texture. Lean into distressed farmhouse-style wood décor for the kitchen and mount oversize framed vintage posters. Remember, as long as you're using a cohesive color scheme, you can play around with unique and mismatching pieces. To gain a better visual perspective with your designs, try our Home By Me 3D design software that will display your customized creations in an easy digital format.
Layering Textures
Layering textures is a surging trend that's being underscored almost as much as our beloved shades of green. So anything that feels and looks cozy is on the table this year. We're even seeing walls being decorated with more texture. From salvaged barn boards to shiplap to charming retro panelling – you can use wood to elevate the texture and charm of any room. For a layered look that's extra comforting, mix a range of natural and organic materials through the furniture, floors, and décor. Focus on blending burl wood furniture with warm neutrals and textured fabrics like bouclé. Even metal and stone can look incredible when balanced out against warmer tones and soft, plush materials.
Every color exudes emotion which is why the color palettes used at home play a central role in how we feel. Using different textures also encourages us to touch and feel, thus, creating a deeper connection to our interiors and bringing a sense of soul to the space. To start this new year off right, focus on these top emerging trends in material and colors for 2022 that are emotionally restorative and unapologetically expressive.
---