How to Create a Smart Home for Your Clients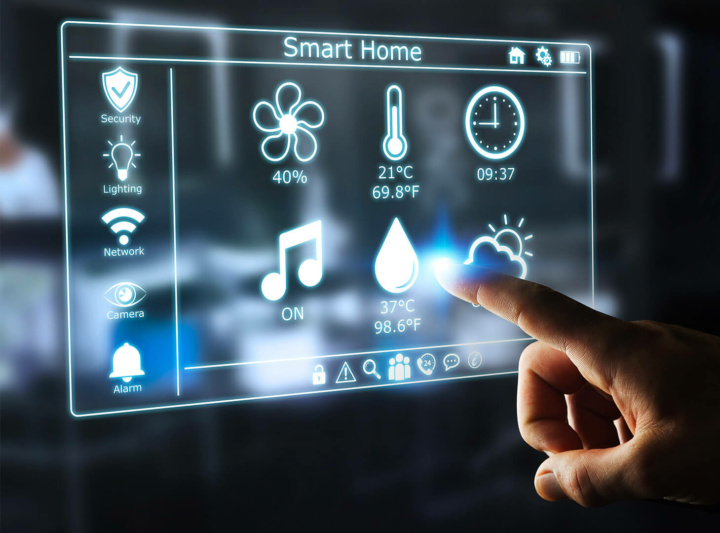 As an interior designer, in addition to creating beautiful spaces for your clients, you also need to be able to design homes that are functional and efficient. There is a growing demand for houses that are also sustainable and inexpensive to maintain. In today's high-tech world, there are many technologies available to accomplish this goal.
Whether your project is a new build or renovation, it presents the perfect opportunity to install technology that will make your clients' lives easier, as well as help their homes become more energy and cost efficient.
In this article, we take a look at smart home technology that you should know about for your next residential project.
What is Smart Home Technology?
The term "smart home" is becoming more and more of a buzzword as home technology is incorporated into old and new homes alike, providing comfort, convenience, security and energy efficiency. Also called "smart home automation," it refers to a residence whose lighting, heating and air conditioning, appliances, entertainment systems, computers and security systems can digitally interact and be controlled remotely from any room in the house or via a smartphone or the internet. It has gained in popularity in the two decades, allowing homeowners to save energy and enjoy the ease and convenience of controlling their lighting, HVAC systems and window coverings, even when they're not at home.
Any device that uses electricity can become part of a home network and be controlled by voice, remote control, tablet or smartphone. It can be used it in any room in the house.
Smart Exterior Solutions
In addition to windows, doors, insulation and roofs, glass has become the material of choice for aesthetics as well as conservation efforts in home design. Smart glass, one of the latest technologies, switches from transparent to varying degrees of opaque on demand, providing instant privacy, custom shading and energy control. Smart glass has the ability to change its light transmission properties when voltage, light or heat is applied, turning transparent or translucent at the click of a button. When the electrical supply is switched on, light can pass through, and the panels become clear. When switched off, they turn opaque, offering privacy.
With a sleek and modern design, smart glass windows, doors and skylights help make homes energy efficient. It offers increased security and convenience, while eliminating the need for blinds or shades, while providing unobstructed views.
The strategic use of smart glass facilitates control over sun glare and radiation, and creates the ability to redirect natural light. The incorporation of smart glass into a home's design can result in increased the productivity and a sense of happiness of its residents due to more exposure to natural light. In addition, architectural daylighting using smart glass solutions reduces the energy usage of artificial lighting while protecting the home's interiors from sun exposure, with its harmful UV rays.
Smart Home Interior Solutions
Inside a home, smart technology can improve how a utility is implemented, or make a room more functional and energy-efficient. Here are some examples:
Smart Lighting
Smart lighting is a technology designed to save energy while improving efficiency and security. Smart light bulbs are LED light bulbs containing software that connects to the internet via an app, allowing homeowners to automate and control their lights remotely with a smartphone, tablet or smart assistant, such as Google Assistant or Amazon Alexa.
Smart lighting eliminates the need for traditional switches and affords more control over lights. While smart LED bulbs are more expensive than traditional light bulbs, they use less energy and last longer, with an average lifetime of 15,000 hours. Smart light works by using wireless communication standards such as Bluetooth, Wi-Fi or Zigbee to connect to an app on a device or directly to an automation system. Smart lighting integrates with Alexa, Google Assistant and Siri, as well as other smart home devices.
The Smart Kitchen
Smart home technology can introduce convenience and cost savings to any kitchen, saving time and energy, while being more efficient and sustainable. Various functions of the kitchen can be controlled by smartphone or tablet, using Amazon Echo or Google Nest Hub activated by a voice command or screen tap. Homeowners can get a recipe, do a quick conversion from grams to teaspoons or change the music from classical to rock while cooking. A smart kitchen will also have smart appliances.
The kitchen is probably one of the most technologically advanced rooms in a home, and it just keeps getting smarter. Smart major appliances are just one example:
A smart refrigerator can keep grocery lists, set expiration dates for staples, build a recipe index, or even reveal which family member is raiding the icebox with its built-in camera. Some come equipped with a web browser with which groceries can be ordered from home.
A smart oven can be turned on and off or have its temperature controlled remotely, or pre-heated during a commute. Users can send recipes to their oven for temperature selection and use Amazon Alexa or Google Assistant for voice control.
Smart dishwashers have improved function and efficiency. Wash cycles can be started at any time from a smart phone, and users can receive alerts when detergent is low or when a wash cycle finishes, and create cleaning cycles for special washes. To save on utility bills, it will monitor energy use in the neighborhood and self-activate when energy consumption is low. Using automatic sensors, it can adjust water and energy use to operate efficiently.
The Smart Bathroom
From smart mirrors to privacy glass to high-tech shower systems, there are a myriad of ways to improve the design of a bathroom, make the space more enjoyable and comfortable, and help the environment all at the same time. Here are some ideas:
 Smart toilets offer heated seats, hands-free flushing, automatic lid opening and closing, and deodorizers. Other features might include water efficiency, drying functions, heated seat, built-in speakers, warm air dryer and multi-colored lighting, all of which can be controlled by voice.
Smart showers can be turned on from the bedroom, save water pressure and temperature preferences, or even include a TV. E-showerheads can be used to drastically cut down on water flow and save on utility costs, simply by connecting it to a smart phone. Some high-end systems let homeowners control and customize every element of their shower – water, steam, sound, lighting –to create a spa-like experience.
Smart glass is the perfect design solution for bathroom design because of its minimalist aesthetic and ability to create instant privacy, eliminating the need for traditional shower curtains. Smart glass also makes small spaces appear larger and lets in natural light.
Smart mirrors often include energy-efficient, adjustable LED lights that will do everything from providing more light for applying make-up to providing nighttime lighting. Some even have an Alexa-enabled stereo sound system with a microphone.
Smart technology is the perfect tool for interior designs to create a beautiful and functional home for their clients. The ideal time is during the building or remodeling process. The result will be a state-of-the art home with increased resale value.
---