Decoration March 5, 2020
Stay on trend: practical DIY ideas for kids' bedrooms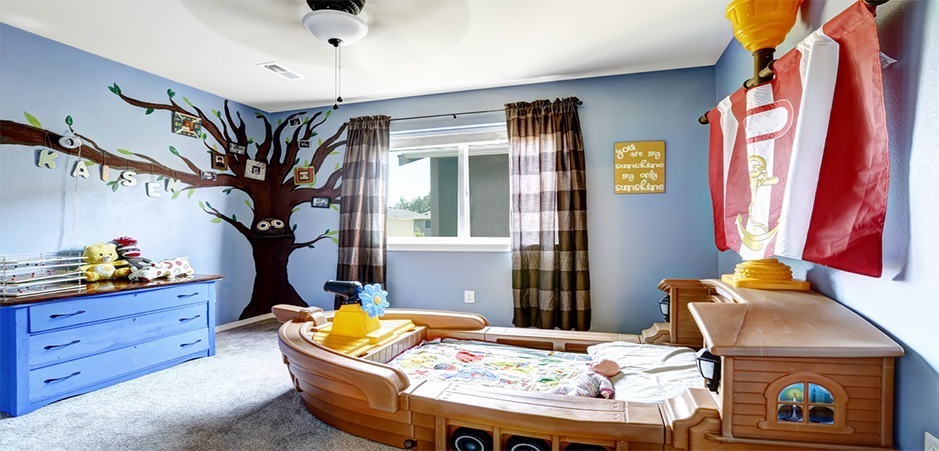 Decorating children's rooms can be fun and satisfying, but remember that things will change. Fast!
TIP 1
Stencil the wall
Make or buy a stencil cut-out. First, paint the background color; when dry, overpaint with the stencil. A blue background with fluffy white clouds is a simple choice with great impact for tiny tots, or an abstract design for teens.
TIP 2
Make an alcove
An alcove adds depth, interest and flexible space for drawing now, or a computer later. If there isn't one already, don't start knocking down walls: place a freestanding closet or cupboard about 3' apart from DIY open bookshelves. Instant desk space!
TIP 3
Personalized bedhead
Make an adaptable, personalized bedhead with soft foam covering the frame. Over that, add a sheet or canvas that's painted by you for a small child, or by them as they get older. Use safety paint, appliqué or embroidery.
TIP 4
Make a mobile
An easy fixing is a wall bracket holding a pre-formed L-shape; find them in DIY stores. Only use a ceiling hook if there's a wooden beam above. Create a mobile of shiny fabrics for babies, and later ring the changes.
TIP 5
Starry nightlight
Make a simple, magical nightlight with a framed art canvas and a nightlight—a single bulb or a string of lights will work—and make your own star pattern in tiny holes in the canvas. Later, they can paint it themselves!
TIP 6
Build a den
Kids' spaces become really special with a den. A simple wigwam is easy with three garden bamboo poles lashed at the top to form a tripod. Cover with fabric: instant den! Later, use the space for an easy chair.
TIP 7
Empty picture frame
Kids room decoration invariably involves short-term pictures and posters on the wall. Be prepared with an empty frame made of craft timber strips. Hey presto! You have a ready-made frame for cartoon characters, kids' own artwork, or pop pinups.
TIP 8
Animal tidy jars
Make a fun menagerie of plastic storage jars with a plastic animal glued to the lid and painted different colors. That way they'll know that the eagle is for crayons, the zebra is for craft scissors, and the cute kitten for beads and buttons.
TIP 9
Toy tidies
There comes a time when there are more toys than space; kids' room organizing ideas need a solution. Make a door-back tidy with a sturdy fabric backing; sew on pockets in contrasting colors. Re-purpose it later for sneakers or scarves.
TIP 10
Storage, storage, storage
Kids room decoration ideas always return to storage. Color code those open shelves for books, games and cuddly toys; make a hammock for all the toys to keep them off the floor, or find plastic stacking crates for random treasures.
IN A NUTSHELL
Create an alcove for flexible desk space from crayons to computer.
Keep clutter off the floor with a pocketed toy tidy that's great for sneakers and scarves as kids get older.
Design flexible wall decorations with stencils and empty picture frames for changing displays.