Kitchen March 5, 2020
How to organize a kitchen island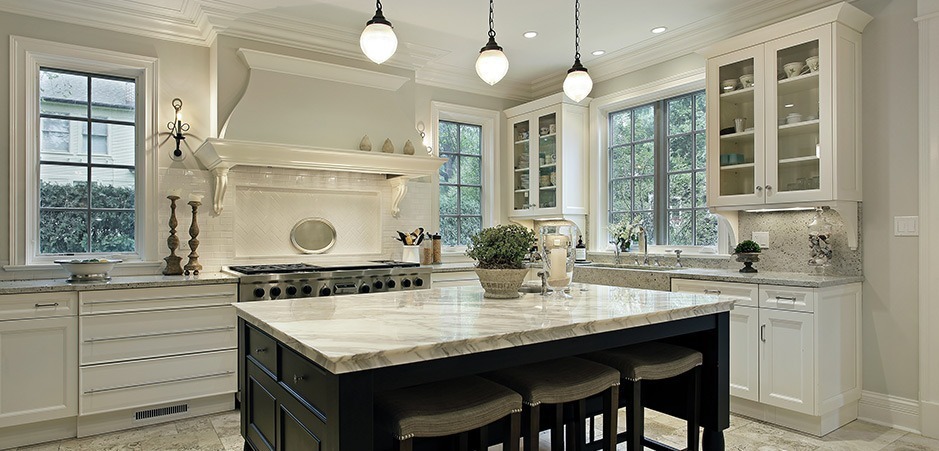 A kitchen island is an important feature of an open kitchen. Read 10 tips for creating a functional kitchen island.
TIP 1
Advantages
The island can completely redesign the kitchen area by orienting it towards the living room or outdoors. To find the best location that suits your open plan, take time to consider an optimum use of space which takes into account flow paths.
TIP 2
Complementarity
Although the kitchen island seems to be an independent element, in reality it's necessary to organize the various clusters and storage spaces between the island and the kitchen walls.
TIP 3
Harmony
Whether different or of the same style, this element must be an integral part of the kitchen and integrate with the decor of the dining room and living room.
TIP 4
Bar area
It's one of the most classic configurations. For breakfast or meals on the run, you can add a high food area. This trick allows you to hide the cooking and work area and at the same time allows you to have a discussion with the person whose doing the cooking.
TIP 5
With a sink
A kitchen island is not always easy to organize, because you must have a water pipe and a water drain in the middle of the room. It's therefore most suitable to install if you are building your house or if you are undertaking major refurbishments.
TIP 6
For cooking and baking
Cooking in the center of the room is without doubt easier. But there must be an effective smoke extraction system to avoid polluting the atmosphere of your kitchen.
TIP 7
XXL
It's possible to opt for a large countertop if your room offers the necessary surface area. This is a good option for those who like to take it easy while cooking. It also has the advantage of offering more additional storage.
TIP 8
Organizing storage
And not only for appliances or dishes! You can also include shelves or niches for cookbooks or kids games. A nice finish for island decoration.
TIP 9
A work space?
Today we tend to work more and more at home and a kitchen island may be an interesting way of ensuring the children are doing their homework after school.
TIP 10
Independance
For optimal user-friendly layout, you can combine the above functions using the four sides of the island. The kitchen becomes central and fits in any room. An interesting solution for old apartments, often deprived of a large kitchen close to living areas.
IN A NUTSHELL
Before thinking about your kitchen island functions, it's necessary to clearly identify the different decor options.
It's the ideal solution for creating a non-existent kitchen in a living room / dining room if you can hook it up to water and power.
A kitchen island is an essential decorative element in an open space where it can play a central role, so make sure to choose well the right materials and colors.