Decoration February 20, 2020
Arranging a kids room decor to keep the floor visible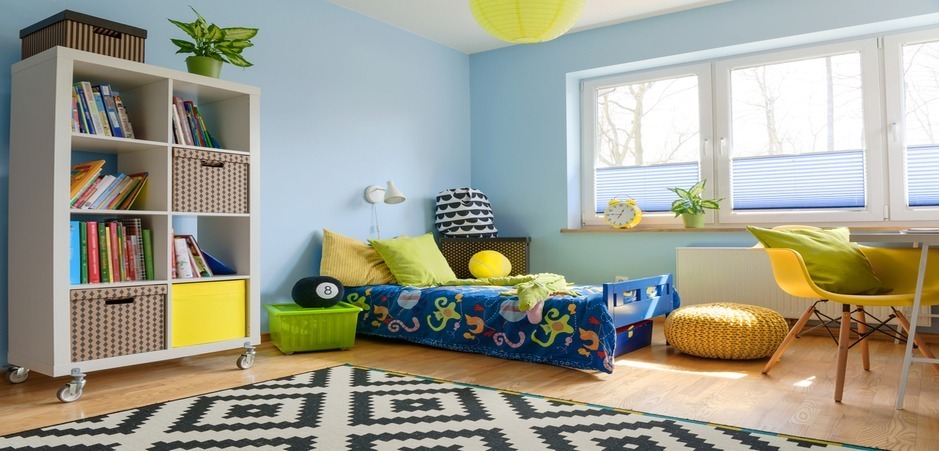 We give you some decorating ideas for children's rooms with the added bonus of rediscovering your long-lost floor.
How to keep toys tidy
Let's start with the perennial problem of tidy toys. For tiny tots, one soft-fabric canvas hamper in their favourite colour may be enough, and it's the right time to instil the discipline of putting away at the end of the day. As they grow, so do their toy collections, so they're going to need more storage. An open-plan multi-level furniture item can be a great solution if you have wall space. You can minimise the visual clutter by getting pull-out baskets to fit some of the recesses. If space is short, some cheap ways to organise a child's room can turn out to be the best: just source a set of different-sized plastic boxes. If one or two of these can slide under the bed, so much the better. Best of all, invest in a purpose-made kids' bed that incorporates toy storage solutions.
Kids' bedroom ideas for small rooms always need creative solutions because there's never enough space. If there's no wall or floor space, try air space instead! Use the kind of hanging wardrobe insert designed for clothing and shoes to make a fun multi-layered storage space for kids' things and get them to help with appliqued or painted decorations on the sides. A simpler use of air space is the handy floating shelf. Even a narrow strip can accommodate a surprising number of small toys and mementos. Before you start a redesign of your child's bedroom, make sure you've planned for circulation routes and avoiding hazards; for example, don't site a floating shelf anywhere near head height. Use some 3D home design free software to help you visualise and see the flow of movement. You'll find it fun and, on top of the bonus of a rediscovered floor, you'll have other 3D free plan users for added inspiration.
5 tips for arranging kids bedroom sets
1 . Starting small
For very little ones, a simple fabric hamper is enough to put toys away for the night and will help to build good tidy-up habits.
2 . Multi-recess storage
As they and their storage needs grow, invest in brightly coloured purpose-made wall furnishing for toy storage. Fill some recesses with pull-out wicker boxes to reduce visual clutter.
3 . Plastic boxes
Simple and cheap, plastic boxes are always a good idea. Let your child choose the colours, you decide on the sizes, and the bedroom will be clutter-free.
4 . Use air space
Hang a wardrobe insert from the ceiling or a wall bracket and use each compartment, decorated or labelled, for various clothes and toys.
5 . 3D apartment plan
Before you start, make the most of some 3D home design software to visualise layout and circulation routes. Getting your child involved at this stage will build enthusiasm for toy tidiness!